ViewSonic PA503S Review – Affordable Option for the Office and Classroom
Are you ready to purchase a projector but don't know where to start? Are you looking for something small, affordable, and reliable to get the job done without paying for extra features or specifications you just won't use?
When getting your first projector, everyone must start somewhere, and that does not always necessarily have to include picking up the fanciest – or most expensive – options. Finding a solid, versatile projector that can handle presentations, videos, and the occasional home theater experience can be tough! There are many things to look for and never enough time to explore all your options.
Headquartered in California, USA, ViewSonic is a solid projector brand with a reputation for affordable business projectors that get the job done. With projector models that range from inexpensive to mid-range, ViewSonic makes a versatile, robust product with consistently great reviews. If you are interested in picking up a great starter projector at a great cost, The ViewSonic PA503S is an excellent choice!
No products found.
Is the ViewSonic PA503S the right option for you?
Dependable projectors aren't always easy to find. With its affordable price point and basic set-up, this middle-of-the-pack ViewSonic projector is ideal for classroom usage. It also has enough power to take into the boardroom for your next business presentation. It isn't a good fit for someone looking to create a fantastic home theater experience, as it's too basic to have the right features. There's no HD capability and the latency makes it a poor gaming choice. It will, however, make a great permanent addition to your conference room or classroom.
While it does have some good features, it's not going to be ideal for anyone looking to wow their audience with state-of-the-art bells and whistles or top-of-the-line color or sharpness. It is a durable, solid little machine for what you get.
Top Features
If you're looking for a projector for classroom or business presentations, the PA503S just might be the ticket. But before you make your final selection, let's dive into the features!
Native SVGA 800 x 600 resolution 
High brightness: 3600 lumens
Lamp type: 190 watt
Lamp life: 4,500 hours / 15,000 hours (economy mode)
Color processing 10-bit
Aspect ratio 4:3 (SVGA)
Displays up to 120 inches
Projection distance 4ft to 43ft 
High contrast 22000:1 
3D mode: Full HD 3D 
Digital zoom 
Digital keystone: Vertical only 
Integrated 2.0 watt mono speaker 
Projector dimensions: 4.33″ (H) x 11.57″ (W) x 8.58″ (D) 
Weight: 4.9 lbs 
Great Lamp Life
An important aspect of any projector is lamp life. On standard mode, the ViewSonicPS503S has an impressive 3,500 hours of lamp life, which can be increased up to 15,000 hours of lamp life in eco mode. This is a great, eco-friendly, and cost-effective option.
Short Throw Projection
The ViewSonic has an incredibly versatile throw distance, making it easy to fill the smallest – or largest – spaces without difficulty. With a throw range from 3.5 up to 43 feet, It's highly maneuverable. If you need to travel, you'll be confident that this will work in any conference room or small theater you need to present in.
Easy to use
One of the best features of this projector is how easy it is to use! The ViewSonicPA503S projector doesn't need much calibration or time spent on set-up. It's a great plug-and-play device for those who don't have much time between presentations or may need an easy option when it comes to their comfort with technology.
SuperColor Technology
This projector comes with ViewSonic's proprietary color system, SuperColor Technology. This technology allows projectors to consistently reproduce images in higher quality color using an exclusive color wheel design. SuperColor Technology better replicates natural colors without fading or hyperpigmentation. The color is dynamic, vivid, and true-to-life!
Remote Control
The ViewSonicPA503S comes with a small, eight-button remote control. It's easy to use and quickly allows you to cycle through different modes. With essential buttons like power, home, menu, enter, and volume buttons, the set-up is intuitive and incredibly straightforward.
Multiple Connection Ports
This projector has a lot of options for connectivity. While not as robust as more expensive models, it has a little bit of everything for a basic set-up.
Audio in: Mini Jack
Audio out: Mini Jack
Composite: RCA
HDMI 1.4
RS232: DB-9pin
USB
VGA In: Dsub-15pin x 2
VGA Out: Dsub-15pin
Pros
Affordable on any budget
Projectors can get expensive, as many designed for home theater can cost you upwards in the thousands of dollars. Finding a good model for a great price can be difficult, especially if you aren't sure what you're looking for.
One of the best things about the ViewSonic PA503S is the price tag! If you're looking for something to store in your classroom, we know how much an educator budget has to stretch just a little further each consecutive year. However, this little projector is the perfect thing for just about any budget. It retails under $300 just about everywhere.
Eco-friendly options
The ViewSonicPA305S is known for having great power saving options that can be manually configured, as well as some that are automatically configured as part of their EcoModes. The PA503S has an auto-sleep timer that kicks in the projector has been inactive for several minutes. It puts the projector into a low-power Sleep Mode that can be resumed quickly for further use. The Eco Blank Mode will reduce lamp illumination if a presentation is paused and even blank the screen for a short period of time.
It also has an automatic power-off function when the projector isn't able to detect any input, which further reduces energy usage. Altogether, this can save up to 70% energy consumption over the lifetime of the projector! And, it can preserve the lamp life for up to 15,000 hours!
Great brightness quality
The ViewSonicPA503S is a powerhouse when it comes to brightness! With 3,600 lumens, you can project images into a room even with a lot of ambient light. You won't need complete darkness for your audience to make out the finer details. This is a blessing when you are handling a big group (or some particularly rowdy students).
Additionally, the lamp has an estimated at around 4,500 hours of standard use. For use in the classroom or business presentations, that gives you plenty of lamp life. In Eco Mode, you'll get even longer lamp life – bringing it up to 15,000 hours!
3D support
With the HDMI port, you have the option of 3D images if you're using a Blu-Ray player. The ViewSonicPA305A comes with full 3D support, though appropriate glasses are needed to use it appropriately. It is still a great feature to have if you ever need to utilize it!
Small size
This projector is fairly compact in size with dimensions of 4.33″ (H) x 11.57″ (W) x 8.58″ (D). The slim design and smaller size make it a good option for travel. You can throw it into a bag and go across campus or taking it with you on your next sales pitch. Weighing in at under five pounds, it won't break your back in the process, either. Trust us, you'll notice the lighter weight if you ever have to carry it around. While 1-2 pounds difference doesn't seem like a lot, you'll notice it after you've been hauling it around for any length of time.
Cons
For a projector this price, you aren't going to get all the bells and whistles of a higher-end machine. That doesn't mean it's a bad projector. However, no device is perfect, and you may want to consider some of the drawbacks before you take the plunge. Much of your mileage for a projector comes out of your specific needs.
Low resolution
The biggest drawback of the ViewSonic PA305S is the resolution. It only comes with a native SVGA 800 x 600 resolution. It's lacking the full HD resolution capability that's most common in many standard projectors today and does not project in 4K. This isn't like to be an issue for anyone using this projector for business or classroom use, as you're unlikely to be streaming dedicated video long term. However, you may find that smaller text is blurry at a distance, depending on your room set-up.
One note is that when streaming video, you may see some pixelation in areas. This does happen with some low-resolution projectors.
No bluetooth
The ViewSonic is not Bluetooth compatible. This may hinder any additional connectivity options, though you may be able to order a third-party dongle for the device.
Small speakers
While the onboard 2.0 watt speakers are great for the occasional video clip during a presentation or lesson plan, they aren't going to do much for any home theater set-up. If you need to use audio for anything bigger than a few minutes, you'll need to purchase additional external speakers. However, they should be good enough to be heard during an important meeting if you need to play video as part of a larger seminar or demonstration.
Alternatives
If the ViewSonic PA503S does not meet the right criteria, you may want to take a look at comparable alternatives on the market. We've selected two alternatives with similar features and price point that may be more suited to your needs.
The first is actually a slightly different ViewSonic model, the PA503W. While incredibly similar to the PA503S, the ViewSonic PA503W has a higher resolution at WXGA 1280×800 native. It is the same size, shape, and looks almost identical from the outside. It's just as bright (with the same 3,600 lumens), still 3D compatible, and comes with all the same connection capability. It does have a slightly longer throw distance than the other model, making it better suited to a larger space. However, it is slightly more expensive.
For a more portable option, the Optoma ML1050ST+ is a great little projector that packs quite a punch. Not only is it tiny, measuring in at 4.4W x 4.1D x 1.5H inches, but it also weighs under one pound! If you need a projector great for long-term travel, this is a good choice! It's made for small spaces, as it can throw a 100-inch image from only a few inches. Because of its size, it does have few connective ports though provides the basics. With all that said, the Optoma ML105ST+ is a significantly more expensive option.
Conclusion
Sometimes, simple is best. The ViewSonicPA305S exemplifies this perfectly! Ideal for displaying Word documents, PowerPoint presentations, graphs, charts, and photographs, the ViewSonic PA503S will give you the crisp images your audience needs no matter what kind of ambient light you have to work around. It is one of the best (if not THE best) projector on the market under $300. ViewSonic products are consistently rated as sturdy, easy-to-use, and versatile by consumers across the board.
ViewSonic PA503S Verdict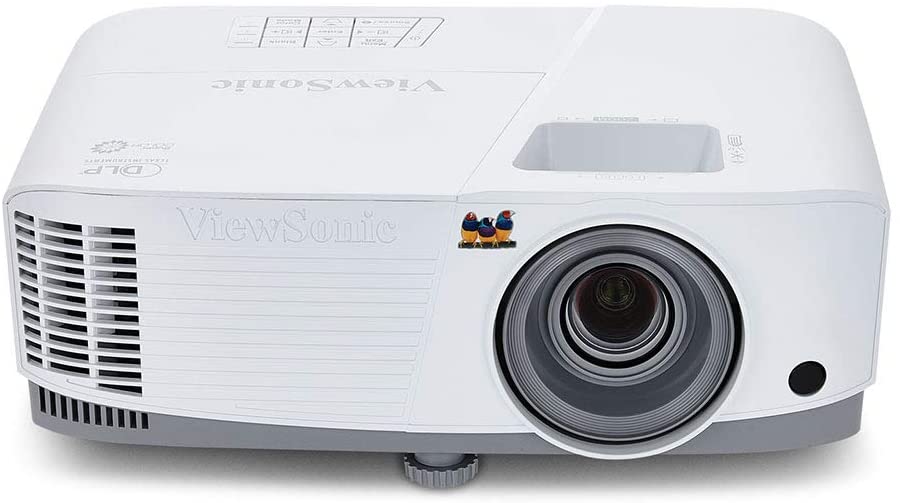 We think it's a good deal for presentations, and even a film projector for anyone thinking of getting started in creating their own home theater. If you want to find something inexpensive without compromising brightness and durability, the ViewSonicPA305S is a great choice for you!