Optoma ML1050ST+ review: A tiny (and mighty) short-throw projector you'll love
Sometimes, when we're focused on the biggest and most impressive-looking technology, we tend to overlook the fact that you can pack the same punch in a much smaller size. This is especially true when considering the purchase of a projector. Whether you need it for personal use or you're looking for something versatile for the classroom, boardroom, or the next conference talk, don't underestimate the "little guys" so to speak, especially when many of them might have exactly the options you are looking for! The Optoma ML1050ST+ short-throw projector is just the model perfect for all that – and more.
One of the most trusted brands in quality projectors, the Taiwanese company Optoma has led innovation for years. The brand was founded in 2000. By 2003, Optoma launched the world's first 65-inch DLP Projection television, and in 2016, they introduced the first 4K UHD ultra-short throw laser projector.
But before we go too far into the details, let's see if the Optoma ML1050ST+ is for you.
Who is the Optoma ML1050ST+ for?
With the overall size (and weight) of this model, this will certainly appeal to anyone whose shoulder is already straining under the weight of their briefcase-laptop bag- projector combo. It was designed with the traveler in mind, especially given that it comes with a soft carry case just for the job. If you need an organization-owned projector for employees to use on an as-needed basis, you may find that this is the perfect long-term solution. It doesn't take up much space, making it perfect for a smaller conference room or classroom, especially if you don't have the means to permanently mount it to the ceiling or otherwise.
This model is going to be best for the user on-the-go or one with limited space and the need to project a large screen without a long throw range. The Optoma ML1050ST+ is well-suited for business presentations and professional use, though it might struggle to handle even the most basic home theater set-up, given the lack of HD or 4K visuals. It's also not a likely fit for any gamer's streaming, either. We wouldn't recommend it for heavy video usage, either way.
Optoma Portable LED Projector | 1000 lumens with Auto Focus | ML1050ST+
COMPACT SIZE: Weighing under one pound, this palm sized mini projector is perfect for the road warrior; it fits easily in a briefcase or backpack to go anywhere
EASY SET-UP WITH AUTO FOCUS: Simply place the projector and the auto focus sensor will project a sharp, detailed image with no hassle; when the projector or table is bumped, the image will refocus instantly
SHORT THROW PROJECTION: Easily project in tighter spaces; the ML1050ST plus's short throw lens allows users to place the projector just a few feet away from the screen and still enjoy a large 100" image
Top features
While we've established it is a great travel projector, that's not all it has to offer. More than just the features, there's a lot of power in this little machine. Here are some of the highlights of the Optoma ML1050ST+, including a quick rundown of the basic specs:
Brightness: 1,000 ANSI lumens
Resolution: 1280×800
Aspect Ratio: 16:10 (WXGA)
Contrast: 20,000:1 
Color Processing: 8-bit 
Video Modes: 720p, 1080i, 1080p/60, 576i, 576p, 480p, 480i 
LED Lamp 
Lamp Life: 20,000 hours / 30,000 hours (in Economy Mode) 
Integrated 1.5 watt mono speaker 
Throw Distance: 1.4′ – 11.3′ 
Image Size: 24.76″ – 199.88″ 
Autofocus between 25-100" 
Includes Digital Zoom Feature 
Vertical Digital Keystone 
Projector Size: 1.57″ x 4.41″ x 4.41″ 
Weight: 0.9lb 
Audible Noise: 28 dB 
Operating System Compatibility: Windows 7 / 8 / 8.1 / 10, MacOSX 10.9+, Android 4.0+, iOS 8+ 
Autofocus
While it is a standard feature in most Optoma projectors these days, the ML1050ST+ is a slightly older model (2018) with very intuitive autofocus that doesn't distract viewers from the screen. It takes very little time or calibration to get your audience a crisp, clean image that won't recalibrate constantly while in use.
Super short throw distance
While most short throw projectors can need anywhere from three to eight feet to get a great image, the Optoma ML1050ST+ can project 25" from as short as 1.4 feet away. When we say it is built for small spaces, we mean it! However, if you need to project a 100" image, you'll want to pull it back a little further. Still, this means any time you travel you'll be confident that it will fit into any conference room or classroom without issue.
Memory card reader
With the built-in micro-SD card reader, you can play video and presentations directly through the device, doing away with the need for a bulky laptop or any other electronic involvement at all. It's a nice feature for any time you need to travel light!
Low input lag
While it might not be the best gaming rig for your setup, The Optoma ML1050ST+ does have relatively low input lag at around 16.0ms per second. This means less delay while streaming video – or video games – from your device to the projector (and important aspect for any gamer). It also puts this on par with a traditional monitor if you don't want to spend the money on a device with HD or 4K capability.
LED lamp
At 1,000 lumens, this projector puts out less brightness than other models at the same price point. However, the LED bulb makes for a surprising level of brightness despite the low lumens. You can see a difference in the crispness of the image even with the standard 1280×800 resolution. If you're using it in a suitably dark room, you might even forget you aren't looking at HD.
Superb lamp life
Speaking of the LEDs, the lamp life of this device is outright impressive. In standard mode, the expected life is 20,000 hours. In economy mode, it's closer to 30,000. You won't need to pick up a replacement for the foreseeable future, as the lamp might outlast the projector's life if you ever decide to upgrade.
Connectivity
This projector has a few connectivity options. While not necessarily robust, it has the most basic ports that you'd need for general use.
Audio Out: 3.5mm Jack
HDMI 1.4a 3D support + MHL
microSD card
USB-A reader
Universal I/O – VGA
Pros and cons
As we've said before, no projector is perfect! It's important to take a look at the good and the not-so-good that each one offers before you make your final choice.
Pros
The Optoma ML1050ST+ has some great things going for it! Here are some of our favorite characteristics of this projector:
Compact size
We cannot tell emphasis enough on how tiny this projector truly is. Look at those dimensions! 1.57″ x 4.41″ x 4.41″. Under five inches all around, it is literally a palmtop projector that weighs less than a standard baseball. If you travel frequently – and are expected to bring your projector – you'll appreciate how lightweight and compact the Optoma is. More than that, your back and shoulder will thank you for the lighter load, too.
Perfect for travel
As we said above, this is the optimal projector for heavy travel. This Optoma model fits easily into any laptop bag or – if you're a frequent flyer – easily in your carryon or personal item.
3D ready
With the HDMI port, you have the option of 3D viewing if you're using a Blu-Ray player. The Optoma ML1050ST+ features full 3D support, although you will need to purchase glasses separately for use.
Durability
While the look of the projector might suggest it's more fragile than other models, that's just not true. Despite the small size, the Optoma ML1050ST+ is quite a durable little projector. Most user reviews mention how resilient this device is, even after heavy travel and the occasional mishap.
Moderate price tag
We aren't saying this is the most inexpensive option on the market. For a brand like Optoma, the price is generally tied to their reputation for reliability and quality. However, in this case, you are paying for the convenience that comes with this size as well. The Optoma ML1050ST+ currently retails for around $700, though it's often considerably cheaper on sale.
Cons
No projector is perfect. Here are the aspects we found a little lacking in this model:
Not 4K
With the price point of this projector, this shouldn't come as much of a surprise that is lacking 4K capability. Unless you're willing to spend quite a bit more for a projector, it's not something you'll find with this price tag, nor is it necessary for a presentation-centric projector.
Ambient noise
There are quite a few vents on this model! It can get hot if you aren't careful, though it doesn't overheat. With the vents, the Optoma ML1050 ST+ is louder than comparative models in other brands. When operating in full brightness mode, you will get some background noise (generally around 24 decibels) which may not be ideal for smaller spaces. We don't think you'll find it too distracting, but it does bear mentioning.
Not always the brightest
In a completely dark room, the Optoma ML1050ST+ creates a fantastic viewing experience. However, it may struggle in the presence of too much ambient light. This can be a common occurrence in many venues, including classrooms, so it's something to be aware of.
Limited connectivity
Given that the width of this projector is under 5 inches, it should come as no surprise that it has very limited connectivity options. In fact, there isn't much more than a handful of standard connections.
Small speakers
The projector has integrated 1.5-watt mono speakers, which is closer to the output on a smartphone than a projector. Fortunately, there is a 3.5 mm audio jack on the device, so you can hook it into a bigger sound system (if available) or a portable external speaker.
Wireless dongle not included
You will have to purchase an additional WUSB dongle separately for wireless capability. However, Optoma does make a proprietary one that will integrate with the ML1050ST+ seamlessly.
Alternatives
When it comes to short-throw projectors, there are plenty of options on the market. If the Optoma ML1050ST+ doesn't fit your needs, you may want to check out some of our other recommendations for a similar model.
BenQ HT2150ST
Our first pick is a great option for someone more interested in a home theater experience rather than a simple presentation projector. The BenQ HT2150ST is a short-throw projector that can throw an image up to 100 inches within three feet. With 2200 lumens, it's perfect for a completely dark environment (as most home theaters are) and has great color quality with a 6x RGBRGB color wheel. It's much larger than the ML105ST+, clocking in at 4.79 x 14.98 x 10.91 inches. It's also exponentially heavier, weighing 7.93 lbs. The BenQ HT2150ST retails for around $799.00, which puts it at a comparable price to the Optoma but with an emphasis on image quality over portability.
ViewSonic PA503S
While we have covered this projector extensively in its own review, we can say again that the PA503S is another solid projector from an equally trusted brand. Compared to the ML1050ST+, the ViewSonic is both larger – 4.33″ (H) x 11.57″ (W) x 8.58″ (D) – and heavier. However, it also has full HD capabilities along with 3D support. It features greater connectivity and comes with an affordable price tag that half the Optoma's rate, retailing at under $300 at most major online vendors.
If you are in the market for a business projector to permanently mount in a classroom or conference area, the ViewSonic PA503S might be better suited for your use.
Conclusion
As this review points out, bigger isn't always better, especially when you're short on space. Sometimes, the smaller – and more versatile – machine is a better option for your specific needs. Portability, durability, and solid brightness are all here in this compact model. Given that the Optoma is a solid, highly rated brand that consistently appeals to consumers, the Optoma ML1050ST+ short-throw projector is a good bet for a high-quality option.
Optoma ML1050ST+ Verdict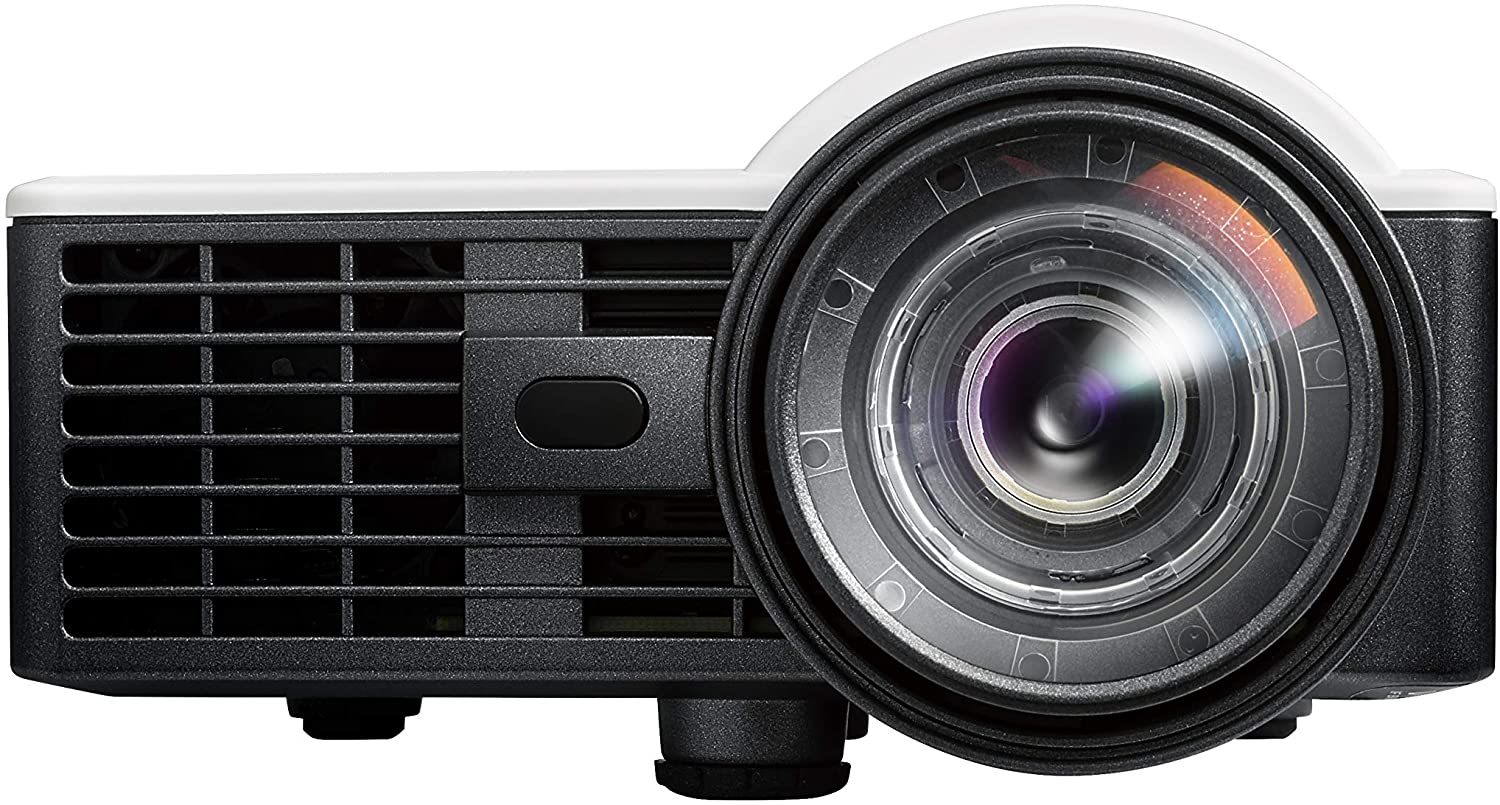 We put it forward as a solid choice for presentations, lectures, or even short films on a rare occasion. While it's a bit more expensive than a starter projector, it's a great investment for anyone who travels frequently for work. If you want something small but powerful, you won't be disappointed in picking up this little gem.