BenQ MW612 Review – What you need for your next business presentation
Are you ready for an upgrade for the office? Maybe you're tired of complaints that the ancient projector in the boardroom is just too fuzzy to see from the back? Or perhaps the trusty model from the 90s finally blew out its last bulb at the big office retreat? Whatever the reason, you need a high quality, durable projector at a great price.
The BenQ brand is known for compact, durable projectors. They emphasize a sleek, multi-purpose design and are consistent bestsellers across the globe. This Taiwanese company specializes in putting a lot of power into a small package. They're also known to design relatively inexpensive offerings from their extensive catalog. Many times, choosing a projector with less suspiciously low price tag comes at a hefty cost in terms of quality, durability, and even the display. That just isn't the case with the BenQ MW612.
So if you're looking for a replacement projector for your conference room or in need of setting one up for the first time, let's check out the features of the BenQ MW612 and see if it's a good fit for your next meeting.
Is the BenQ MW612 for you?
The perfect projector choice always comes down to what you need from it. The BenQ MV612 isn't the best option for home theatre or a great gaming experience; it isn't designed for those functions. However, it will function as a perfectly serviceable starter projector for your home cinema, especially if you need it to serve dual functions. If you don't mind the lack of 1080p or 4K that is. The BenQ MW612 isn't going to give you the same viewing experience you'll get with a more expensive, 4K HDR model, though it also doesn't come with that price tag.
What it will do is throw a crystal clear 120-inch image from up to 13 feet, keeping your text unblurred and easy to read from even the largest conference room. Perfect for displaying Word documents, PowerPoint
presentations, graphs, charts, and photographs, the BenQ MV612 won't leave your audience with a headache at the end of the day. Ultimately, this is designed to be a business projector. It's great for static use but small enough to be travel with you. It's a fantastic portable machine that works best as a static tabletop projector.
[amazon box= "B076MKFM3F" template= "horizontal"]
Top Features
While we've established the best use scenario for this projector, let's dive into the features and take a look at what makes this such a great option for presentations. For its modest price tag, it packs quite a punch in what it does offer for consumers.
Features & Specs at a Glance
Solid 1280×800 Resolution
Aspect Ratio 16:10 (WXGA)
High Brightness: 4000 lumens
Lamp Life 4,000 hours / 15,000 hours (Eco)
Throws image up to 120 inches
Full 3D support
Wireless compatibility
Dual HDMI ports (including one MHL)
Dimensions: 9.3D x 11.W x 4.5H
Weight: 5.1 lbs
Audible Noise: 34 dB
Integrated 2.0 Watts Mono speaker
Audio-In port
Vertical Keystone
Native Aspect Ratio: 4:3
Affordable
Brightness
This projector is bright! With an output of 4000 lumens from a 240W Metal Halide bulb, you won't lack for power or brilliance in your next meeting. And when they advertise 4000 lumens, they certainly deliver! While this could work against you in a dark room (as the front row might find the white just a little too bright), you'll find this output fantastic for dimly or even well-lit meeting rooms, a common facet of big meeting spaces. You won't have to fight other light sources to keep your image clear with the BenQ MW612.
Another feature useful in large spaces, this projector can project a crisp 120-inch image easily from as far as 13 feet.
Clear text
With industry-leading contrast and pixel fill factor, BenQ projectors produce the truest blacks and unmatched readability with every character, graph, and chart crisply defined. High fill factor increases clarity for black and white or colour images and reduces eye strain for presenters and audiences to stay focused on the content.
Long lamp life
For its size and price point, the BenQ MW612 has an excellent lamp life, estimated at around 4,000 hours of standard use. For a business presentation projector, that's a great shelf life that should serve you well. LampSave Mode adjusts lamp power dynamically according to content to extend projector lamp life up to 70% compared to normal mode – bringing it up to 15,000 hours!
Eco-friendly power saving modes
BenQ has developed an Eco Cycle System designed to down on lamp replacement and other maintenance costs, cut down on energy usage, and doesn't affect lamp brightness. The BenQ MW612 comes with three Eco Cycle modes: (1) SmartEco, which intuitively analyzes input content to optimize brightness while conserving lamp power, (2) Eco Blank Mode, which activates after 3 minutes of inactivity to save energy, and (3) Auto Power Off Mode, which powers down the projector after 20 minutes of inactivity.
Robust connectivity
This projector has robust options when it comes to connectivity. Of note, the audio-in is a nice feature considering the small wattage on the internal speaker.
Mini-jack for audio-in and audio-out
Two HDMI ports (one MHL)
1 USB port
Mini USB
12-pin VGS
S-Video
RCA
RS-232
MHL connectivity
Speaking of connectivity, the MHL option adds another level of opportunities for mobile use. MHL connectivity lets Android smart devices mirror documents, photos, videos, or any other content via MHL cable to share ideas and presentations while charging the mobile device at the same time. This way, you won't even need to bring your laptop, making it even easier to pack light when you're on-the-go.
Remote control
The wireless remote control is also a nice feature. It has a decent range, so you won't be trapped in any one part of a room during your presentation. It also has some useful buttons, including a dedicated HDMI button, freeing you from inevitably toggling through the various input sources when you're already on a time constraint. It would have been nice if it came with any backlighting on the buttons, though it may not matter much depending on the room's lighting.
Wireless capability
This is such a bonus when it comes to installation! The ability to wireless connect to your devices makes this projector incredibly versatile for general use. If you plan on using it for dual purpose, this opens up a broader world of streaming options for your entertainment. You can connect your Apple TV, Chromecast, or ROKU wirelessly to this projector without a hassle, giving you freedom in your viewing experience.
Pros
Great price point
When it comes to purchasing a projector, anyone can tell you that the price point can be a huge determining factor for even the most meticulous consumer. It's easy to spend thousands on a device that has all the bells and whistles you want. With a little research, however, you can find most of those features on a much more affordable projector. This is especially important when you're purchasing something on a fixed budget.
The BenQ MW612 retails around $550, placing it squarely in the mid-range for presentation projectors. However, it can usually be found online discounted at least $100, making it a much better deal.
Compact design
The design of the BenQ is great for travel; it's both slim and compact at 9.3D x 11.W x 4.5H. This means it is designed for travel better than more static projectors. It can easily be packed away and carried alongside a laptop or other devices in your briefcase or travel bag. It's also lightweight for the price point, weighing in at 5.1 lbs.
3D support
The BenQ MW612 comes with full 3D support, though appropriate glasses are needed to use it appropriately. It is still a great feature to have if you ever need to utilize it!
Brightness
This is a fantastic projector if your venue has any external light at all. You can take it in and out of the board room, including in any outdoor spaces you might find yourself working in! While it's not got the same power as bigger models, for the size and purpose, the BenQ MW612 can throw a bright – and clear image in just about any environment.
Cons
No projector is perfect. Here are some of the less appealing aspects of the design.
Speaker range
The tiny onboard 2.0-watt speakers aren't going to give you much power in a noisy, crowded venue. If you need to use it for any length of time, you may need to consider external speakers to get the job done. However, they should be good enough to be heard during an important meeting if you need to play video as part of a larger seminar or demonstration. The added audio in port does offer more versatility on that front as well.
Top Mounted Controls
One major drawback for of this model is the fact that the controls are top-mounted. The projector is meant to be a tabletop device, but the design disallows any options for effective ceiling mounting. While ideal for mobile usage, you may want to re-think if you need permanent installation.
No Bluetooth
While you can purchase additional dongles for Bluetooth capability it is not a feature available out of the box for this projector.
Lacks 4K
This is not a 4K projector. While this should not be too much of an issue since you're not likely to be streaming the next big blockbuster, it should be noted that the projection taps out at 1080p. This is, however, perfectly serviceable for most business usage.
Alternatives
If you're aren't sold on the BenQ MW612, several options may be a better fit. One that we think you might like is the ViewSonic PA503S; this made our list of best projectors for presentations. For starters, ViewSonic is always a great brand for mid-range projectors, putting it already comparable to the BenQ models of similar make. It has several of the same features, including energy-saving modes and 3D projection. It also has the benefit of View Sonic's proprietary SuperColor Technology.
While it doesn't have all the bells and whistles, it's also a cheaper option. It does have a much smaller resolution – SVGA 800 x 600 – but that matches its lower price point.
Another alternative is the Optoma ML1050ST+, perfectly designed for travel projection (also among our recommended projectors for presentations). While this is a more expensive option, it's also a much smaller one. This tiny short throw projector is practically palm-sized at 4.4W x 4.1D x 1.5H inches. It's lighter, too, weighing in at a little over 1lb! And since it's designed for short throw projection, it can throw a 100" inch image from just a few feet. It retails at around $700 usually, so still affordable if you're looking for something under $1000.
Conclusion
When it comes to business projectors, the BenQ MW612 is a versatile, portable machine that can do just about anything. While it's obviously designed for the boardroom, it can easily pull double duty as a starter projector for home entertainment, too. Despite the lack of 4K capability, it throws a fantastically bright image from a fair distance.
BenQ MW612 Verdict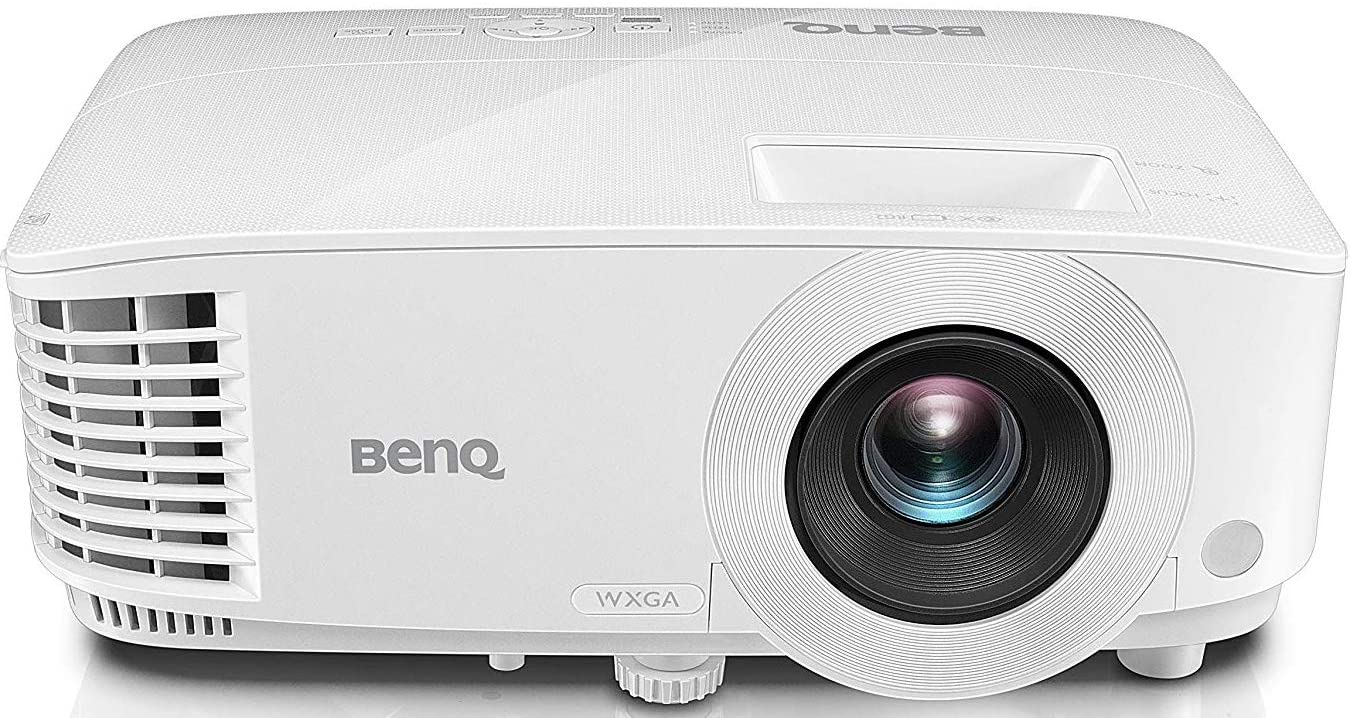 It's easy to set-up, has an intuitive operating system, and travels well. This all makes it a great choice in and out of the meeting spaces. With its 3D projection capabilities (even with glasses not included), the sheer number of features adds another level of flexibility not often seen for the money.
For the price, this projector is hard to beat!