Top Five Portable Projectors for Presentations
As anyone in the market knows, not all projectors are created equal. What you need in a great home theater system might not be the same as what your business needs for office use. Picking the perfect portable projector can seem like an impossible task when presented with the many options currently on the market. That is where this list comes in. Whether you need a projector for classroom instruction, office meetings, or traveling presentations, we've compiled a list to give you the features you're looking for on a price-point you'll like.
Top 5 Portable Projectors for Presentations
It's important to note that we're only looking at the features relevant to presentations on this list. While many of the projectors we've included do offer other great features, we're not outlining their capability for home theater or gaming qualities.
So, in no significant order, these are the top five presentation projectors we think you'll love.
AAXA M6 Pocket LED Projector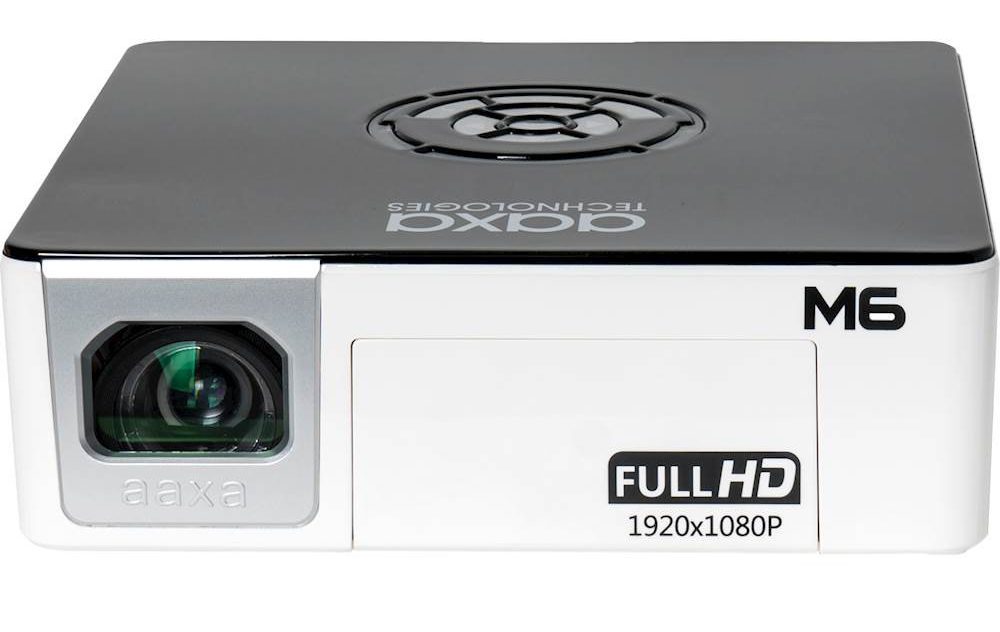 This native 1080p full HD resolution pocket-sized projector is one of the smallest options for 1,200 lumens available on the market now. Instead of a lamp, the M6 features three LED lights (red, green, and blue) with a projected 30,000 hours life, meaning those LEDs should have the same lifespan as the projector without replacement. Moreover, it means the color is vibrant and the image crisp even from a distance.
The projector comes with the ability to toggle between two modes – Bright and Eco. One major drawback of the projector is how noisy it is in Bright mode; you can hear it from 10+ feet away and it can be distracting in those important moments. In contrast, the projector is near silent when running in Eco mode.
This device is fitted with a wide range of built-in ports including VGA, HDMI, AV, and USB. There's also a Micro-SD card reader for a plug-and-play file or media options. A winning feature for presentations, the build-in media player means you can have a laptop-free presentation if in a pinch! The AAXA M6 comes with a built-in 2W speaker which is powerful on its own in a small group but may need to be supplemented with other speakers if used in a larger space. There are no zoom features, which is something to be aware of if this is a necessity for your needs.
One of the biggest features of this projector is the portability. Weighing in at 2.5 pounds with equally micro dimensions (2.1 by 7 by 7 inches), it is tiny. That only makes it a great selection for anyone who anticipates a lot of mobile meetings and needs to be ready to move at a moment's notice. It's perfect for a venue that doesn't have a permanently installed projector. Even in the included carrying case, it is smaller (and lighter) than a laptop.
ViewSonic PA503S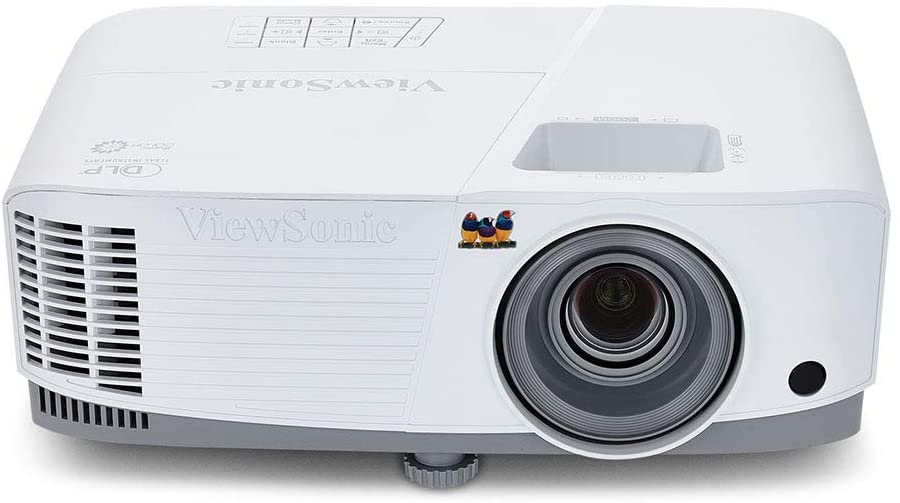 The ViewSonic brand is always a solid pick for a midrange projector with great features and a budget-friendly price tag. The ViewSonic PA503S is no exception to this trend. With 3600 Lumens of brightness combined with SuperColor Technology, the PA503S gives you crisp, bright images and great color accuracy. The light ambiance in the room should not affect the quality of your picture and it is powerful enough to project up to 120 inches from 15 feet.
This is another great plug-and-play choice that requires little calibration. Just take it out of the box and you are ready to go. The lamp light guarantees 15,000 hours, with the ability to further extend life in power saving mode. The connectivity for this projector is very versatile, including HDMI, two VGA, VGA out, mini-USB, audio in/out, and composite video ports. As for size, the PA503S's dimensions are 11.6W x 8.6D x 4.3H; this makes it a decent-sized projector with a little heft. It weighs in at just a little under 5 pounds, meaning it will not be too heavy to take with you to the next meeting. The price point isn't bad either; this projector runs at around $300 from most retailers.
There are a few helpful features on this projector that should be mentioned. The first is an auto-sleep timer that kicks in when the projector has been inactive for any length of time. This is automatic and puts the projector in a low power Sleep Mode state that is easy to wake from. It also has an automatic power-off function when the projector isn't able to detect any input, making it great for energy saving. Both help conserve the projector life, as you may find yourself distracted fielding questions or simply chatting with an interested participant once you've finished your initial presentation.
Epson VS250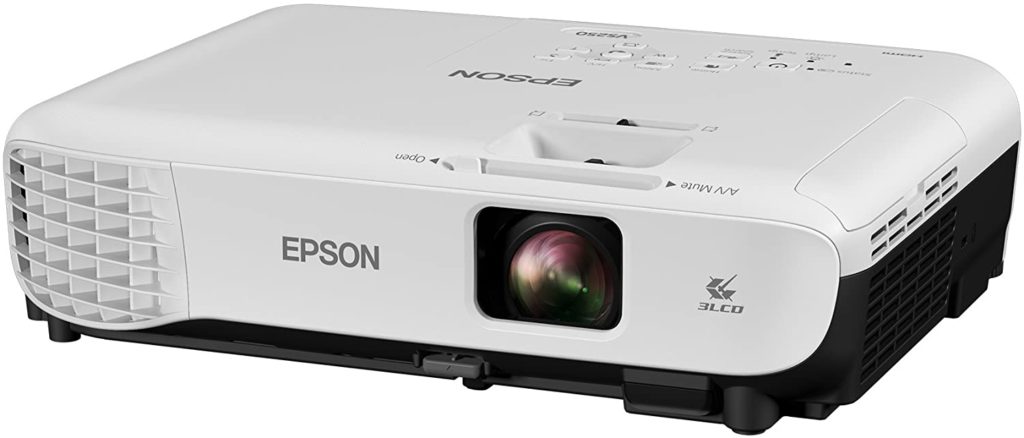 The next option on our best presentation projector list is the Epson VS250, a high-quality projector with a lot to offer. This projector has 3,200 lumens of brightness, putting it for a good choice if you know your presentation spaces have a lot of ambient light. You won't have to work as hard to get a bright image.
The Epson VS250 weighs 5.3 pounds and comes with the following dimensions: 11.9W x 9.2D x 3.2H inches. The price tag is still mid-range, and the projector currently retails at $350. This puts it at one of the cheaper Epson options out on the market. It also has a projected 6,000 hours of lamp light, though it can go up to 10,000 if swapped into the Eco mode. With the horizontal keystone, you can find perfect alignment on any screen.
This one works best with a little time for set-up, so you'll want to factor that in your decision. However, it offers a lot of features worth checking out. For functionality, it has an HDMI, D-sub 15-pin, USB-A, USB-B audio in/out, and composite video ports. It also comes with a digital zoom function. While it lacks Bluetooth capability, it is iProjection App Compatible, which means it can wireless stream from your iPhone, iPad, or other Apple product. This one doesn't come with a carrying bag, so you'll need to purchase one separately. The same goes for an HDMI cable, as the Epson only includes a VGA cable with purchase.
This projector is much quieter than the M6 or the ViewSonic options on our list. If you're concerned about noisy fans during a big meeting, you may want to give this one a closer look. Unfortunately, it is not just the fan that's quiet. The volume on the built-in speaker isn't loud enough for larger spaces and you may have difficulty if your work includes an audio component. The big drawback for this pick is the resolution; it lacks full HD resolution capability and stays at about 800 x 600. While that isn't necessarily a dealbreaker if you aren't utilizing video or high-resolution images in your presentation, it may be a factor for anyone in a media-heavy field. Additionally, you may find that smaller text sizes look blurry.
BenQ MW612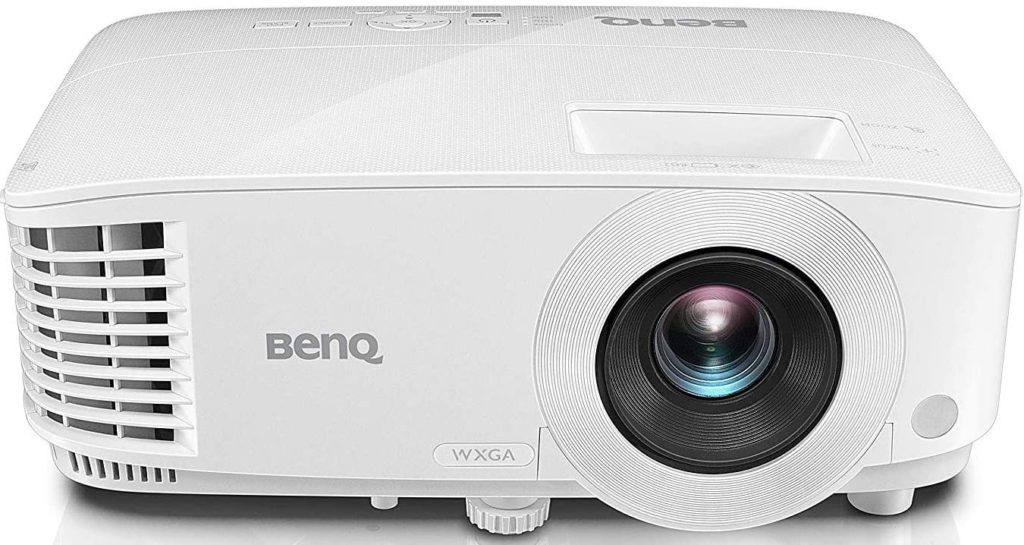 If you're looking for a projector that offers absolute brightness and a crisp image, the BenQ MW612 just might be what you're looking for. With 4000 lumens brightness coupled with WXGA (1280×800) resolution, there's a lot to appreciate about this projector just from the specs alone.
Measuring just 9.3D x 11.W x 4.5H and weighing 5.1 lbs, this projector model isn't light or as easily stowed as some other portable choices on our list, but it makes up for that in its power and features. It supports Blu Ray and Full HD 3D image capability and that makes the BenQ MW612 the next best thing to 4K HDR without sharing price tag. It's also great for big spaces, as it's capable of projecting a crisp 120-inch image easily from as far back a 13 feet. It also comes with a solid zoom, giving you more even more options.
When it comes to convenience, the accompanying remote control offers a dedicated HDMI button that will keep users from cycling through possible inputs and take them straight to the desired option. The projector comes with plenty of ports, too. It has a VGA, Composite video, S-Video, two HDMI inputs (one MHL), USB Type A, USB Type Mini B, and audio in/out. It does not, however, feature Bluetooth capability out of the box.
Like many other projectors of this size and intended purpose, it comes with a single 2W built-in speaker. It might not work if you have a large audio portion or a larger room with a big crowd, especially when you consider the noise from the projector itself. As you might suspect from the lamp brightness, this projector does get louder (34.0 dB) than many other models. You may need to pack an additional set of speakers if you have the need. With any projector of this brightness, lamp life is on the lower end with an estimated 4,000 hours. The BenQ MW612 retails for $549 at most stores, though Amazon occasionally lists them for slightly cheaper.
Optoma ML1050ST+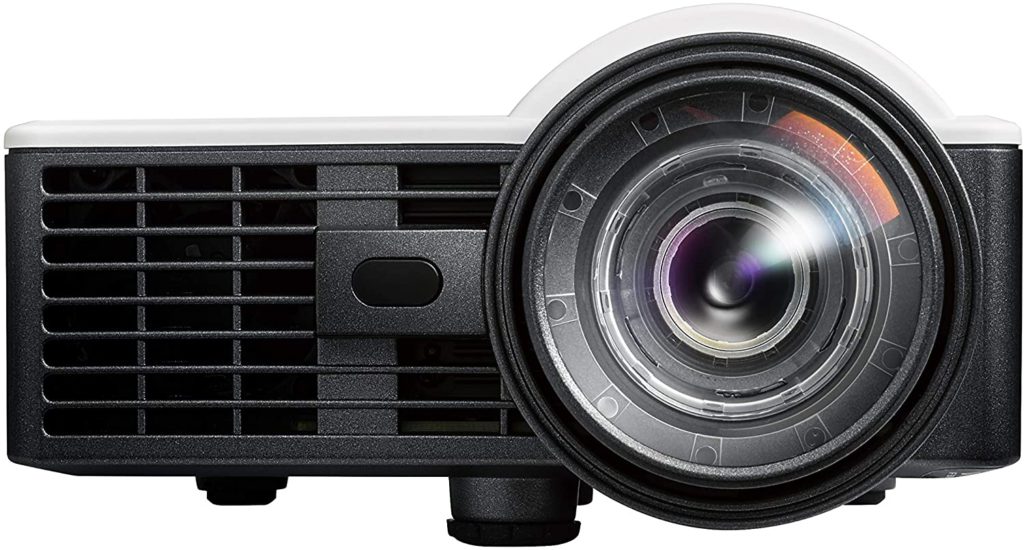 For the last – but certainly not least – option on our list, we've selected the Optoma ML1050ST+, a compact projector that packs quite a punch. It's a short-throw projector that offers 1000 lumen brightness with a 1280 x 800 native resolution.
When we say this projector is portable, we mean it. The dimensions on this palm-sized option are 4.4W x 4.1D x 1.5H inches; it also weighs in at under 1lb, meaning you can bring it anywhere effortlessly. It's easy to throw in a backpack, briefcase, laptop bag, or even a purse if the need arises. If you've ever carried a portable projector any distance for any length of time, you'll appreciate the compact design. If you need to make the most of a tight space, the Optoma's tight throw capabilities is a feature you'll enjoy. It can throw a 100" inch image from only a few feet. The auto-focus lens is surprisingly responsive and makes positioning much easier than expected. Because it utilizes RGB LEDs instead of a traditional lamp, the projector provides up to 30,000 hours of life.
There are a few drawbacks to this model as well. Much like the others on our list, the built-in 1.5W mono speaker is tinny and doesn't offer great sound quality, which might hinder any audio you plan to include in a presentation. What's more, it is not optimal for ambient light though it offers surprisingly sharp images despite the lower lumen output. The price is on the higher end for compact projectors, retailing for around $700. That may be over budget for some, though it offers a higher-end option for heavy travel.
Because of its size, the port options are limited, though it does include onboard MHL-compatible HDMI port, MicroSD slot, and USB ports. An included adapter allows VGA and composite video connectivity. It does offer a microSD card slot for more integrated use. There's an optional WUSB adaptor that provides wireless capability.
Buyer's Guide Considerations
When choosing a presentation projector, there are several criteria to consider before you purchase. Here are the ones we consider the most important:
1. Brightness
This is the most important feature to consider when purchasing a projector. It's also the one most dependent on context. If you are purchasing a projector, you want to make sure your audience will have a clear, bright image for the entire duration of your presentation. But where will you be using it? How much ambient light may interfere with your usage? The same projector that may be perfect for dark venues might not hold up in a partially lit conference room. Similarly, you may not need a projection with 3000-5000 lumen brightness if you are using it primarily in a dark space.
2. Weight
While this might not seem like a major factor in your choice, remember that someone will be towing the projector with them from place to place. Even the addition of a few extra pounds can make a big difference in comfort and easy for a traveler, especially if they are carrying anything else. The weight of a laptop and a projector can easily weigh someone down if they have documents or bulky equipment to bring along to the presentation as well.
3. Easy set-up
If you are looking for a portable projector, odds are you also want something that is not complicated or will take a long time to calibrate before use. You'll likely be on a strict schedule, so you want plug-and-play capabilities as much as possible. This is especially important if travel takes you to different venues frequently and don't have time to familiarize yourself with the set-up in advance.
4. Resolution
Resolution refers to the number of pixels (or dots) used to display an image. Higher resolution projectors will offer detail and higher quality images for your audience. For presentations, it's incredibly important that your audience be able to read the text presented to them. If you're buying a projector to use mainly for PowerPoint presentations, the SVGA resolution alone is fine, while XGA is good for displaying numerical data. You only need the higher resolution projectors if you need to display finer details in video or graphics-heavy presentations.
5. Cost
We know that cost is a major factor in most large purchases you, or your organization, might make. Your budget is likely to be one of the deciding considerations in your final choice. While you shouldn't sacrifice quality, our list shows that you can find great options at a lower price point.
Before You Go.
When shopping for a projector, you'll find there are plenty of options that meet your needs. Once you choose the features you need, the key to picking the perfect projector often comes down to personal preference. There's no perfect choice that's the most suitable for everyone and much of the final selection comes down to your budget, venue, and even personal style. Don't choose your new projector based on only one of the features above but rather, find the best one for you and your business.
Related Articles: