Buyer's Guide: The Best 4K Projectors in 2022
The age of 1080p is slowly fading. The need for clearer, better images is seen everywhere you can expect an image to be shown – smartphones, computers, ads displayed throughout the towns. But there is one type of hardware many wouldn't think of when considering a machine capable of 4K resolution.
Namely, the projectors. It's true; most of the computer geeks out there wouldn't see the benefits of having a 4K projector, because it can be used for limited purposes. But virtually, they will be able to provide you with anything that a regular monitor does.
Whether you want to set up a neat home cinema and you don't want to miss on that cinema quality – and even more, improve it – or you just want to browse big, you're lucky. It's been some time since 4K, 60 FPS has become a guideline when it comes to displays. So by having this standard moving on to hardware as projectors, the number of things you can do to please your eyes increases.
Without further ado, we will now present you with what a 4K projector is able to do and the different types of 4K projectors and we will also give you some helpful information on the best 4K projectors in 2022.
Overall, before making your decision, you have to take into account the circumstances you are going to use your 4K projector in and based on that, you can be confident in your choice.
Therefore, in the next paragraphs, you will see the best 4K projectors of 2022, analyzed and described just for you. You are closer and closer to stepping in the age of 4K on your own – and that's simply amazing considering that some years back, we were struggling with 480p and 720p.
So, all you have to do is lean back and relax as you view our showcase of the best 4K projectors in 2022.
In the spirit of full transparency we disclose that there are affiliate links on this page and if you make a purchase after clicking on a link, we might make a commission at no additional cost to you. We were NOT paid to write this article or include any of the projectors on this list, and only included items on this list because we truly believe in them.
Top 10 4K Projectors in 2022
1. ViewSonic PX747-4K 4K Projector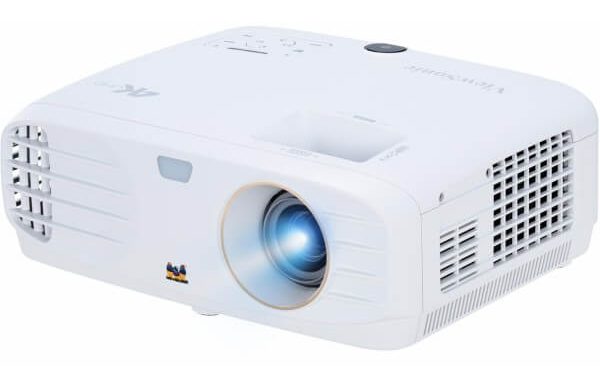 This 4K projector from ViewSonic is very close to offering you the full, true 4K experience. Even though it is a 4K UHD projector, it is able to display at a 3840 x 2160p resolution – and that on a screen of up to 300 inches.
Regarding technology, this projector is using a DLP chip (with XPR technology as well). This means that with the help of pixel shifting, you will be provided with 8.3-million pixels, which is just enough for you to enjoy a movie.
Talking about enjoying a movie, you can do so whenever you want. Because of the high contrast ratio, as well as the 3,500 lumens, you will have no problem plugging in your projector and playing a movie in almost every environment and time of the day.
Also, another thing to take into account is the Super Eco mode of the projector's lamp. This mode is able to keep the lamp shining brightly for a period of almost 15,000 hours – which is more than enough for watching movies, gaming, or any type of video playback.
This little fellow from ViewSonic also comes equipped with a 10W speaker – in case, let's say, you don't have your audio system in place. This speaker is able to propagate the sound throughout the room where the projector is placed. Adding that to the display's quality, you'll soon think you are in a little cinema room, watching one of your favorite movies.
Important to mention is the fact that it also comes with a dual HDMI connectivity. So, if you are a gamer, you can easily connect your gaming console to this projector. Even more, laptops, personal computers, Blu-ray players and digital cameras may be connected to the projector as well.
It seems that slow and steady, this projector is able to become the perfect replacement for your old monitor. And would you have a problem with that? We don't think so as this 4K projector is able to offer you with much clearer and higher quality images than your other devices.
We like:
Very affordable
HDR10 support
Strong build quality
User-friendly
Ultra-long lamp life
Impressive brightness
Pixel-shifting technology
We don't like:
Only two HDMI ports
Black frame around images
Unimpressive colour range
2. BenQ HT2550 4K UHD HDR Home Theater Projector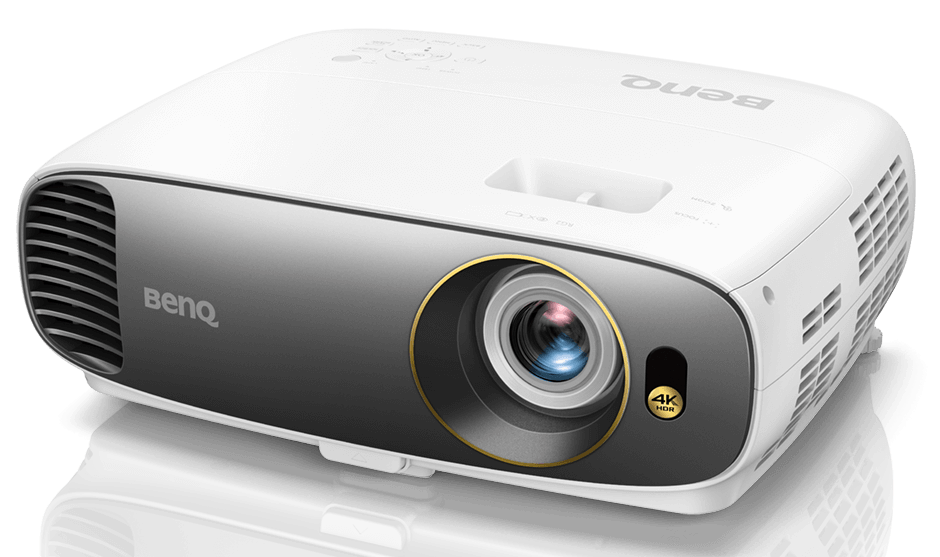 As with the previous projector, the Benq HT2550 4K projector provides you with a display resolution of 3840 x 2160p as well. This projector makes use of the 0.47-inch single-DMP DLP technology, making it one of the smallest and lightest 4K projectors – 9.2 lbs, 13.9 x 5.3 x 10.7 inches. It's easy to fit in one of your larger pockets, right?
Besides the HDR10 support, BenQ adds its own touch to this projector, supplying it with the exclusive Auto HDR colour Rendition and Cinema-Optimized technology. But what does this mean? More goodies for you – greater brightness, higher contrast range as well as image optimization. Even more, because of the single-DMP DLP technology and BenQ's personal touch, you won't have to worry about a blurry display, shadowing or any interference patterns.
I don't know about you, but we'd choose this instead of a cinema. Rounding up your friends to your house, stepping inside your cozy cinema room – popcorn at your leisure, of course – and enjoying your favorite movie among loved ones is something you definitely want.
Another personal touch brought to you by BenQ provides the projector's lamp with Smart Eco technology. Basically, this will adjust the lamp's brightness according to the content you are viewing. This way, richer shades of black will be projected as well as better image details. 15,000 hours of lamp life guaranteed – sounds good to you? We bet it does.
Therefore, small and light, with amazing image quality, and with two features provided exclusively by BenQ make this projector a great choice for your home cinema.
It has all the things you need for a cozy setup, with a little help from the 1.2x zoom and the Auto vertical Keystone as well.
We like:
Very affordable
4K + 3D projection capabilities
Modern DLP chipset
Brightness adaptable to indoor and outdoor use
Respectable lamp life
Low fan noise
3-year manufacturer's warranty
We don't like:
Poor focus
3D projection feature can be a pain to set up
Annoying off-black frame around image, especially visible on white screens.
3. Optoma UHD60 4K DLP Home Entertainment Projector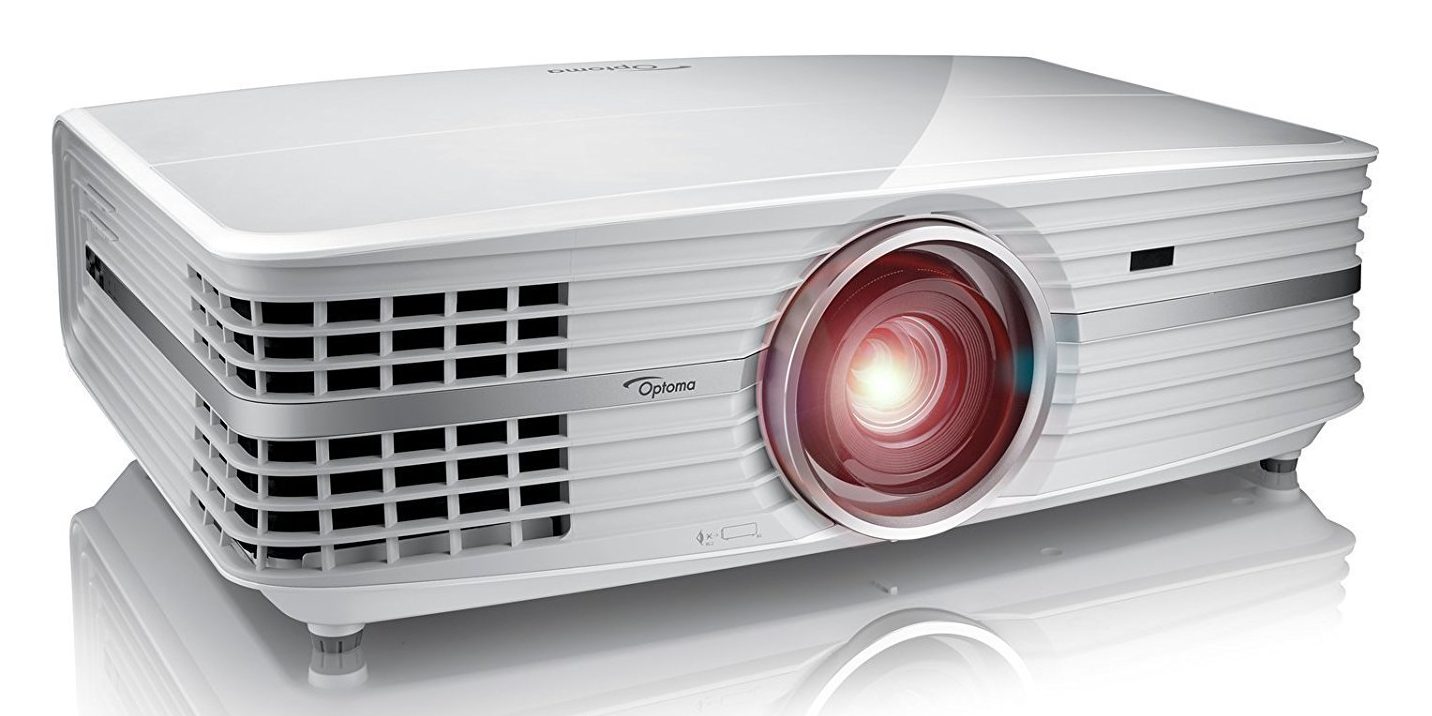 This projector from Optoma comes with what seems to become the standard of 4K UHD projectors – a 3840 x 2160p resolution. Using a single DLP chip, it is able to provide you with the same 8.3-million pixels as the previous two projectors. This ensures you an amazing amount of detail and increased quality picture.
As we've been used to so far, this projector comes with HDR10 as well, being able to produce life-like colour, with help from the REC.2020 wide colour gamut.
If we dive deeper into the amazing colours that this projector can display, we get an astonishing 1,000,000 to 1 contrast ratio for incredible black levels. It can also display 1073.4 million colours – can you imagine that? More than one thousand colours, how could you say no to that? It comes with a 16 to 9 aspect ratio, but it is compatible with 4:3 as well.
Even more, this device has no problem in projecting images on screens of 140 inches and higher. Also, because of the 1.6x zoom, and 1.39 to 2.22 throw ratio, you don't have to worry about some complex procedure of installation or trying to figure out which is the best spot to place the projector.
When it comes to space, you can sit back and relax as far as 10 feet away from the screen where the image is projected. This distance won't cause any damage to the 4k quality, as you will still be able to clearly see the pixels.
With that amazing contrast ratio and the whopping 1073.4 million colours, this projector is for sure one that should be on your list when considering buying a 4K projector. It simply has so much to offer – and you will have much to enjoy if you decide to get one!
We like:
True 4K resolution
Super affordable
Impressive brightness
Reliable picture quality
Low fan noise
Low input lag
Long lamp life
We don't like:
Annoying flicker in eco mode
No 3D option
Bulky size and poor build quality
4. BenQ TK800 4K UHD HDR Home Theater Projector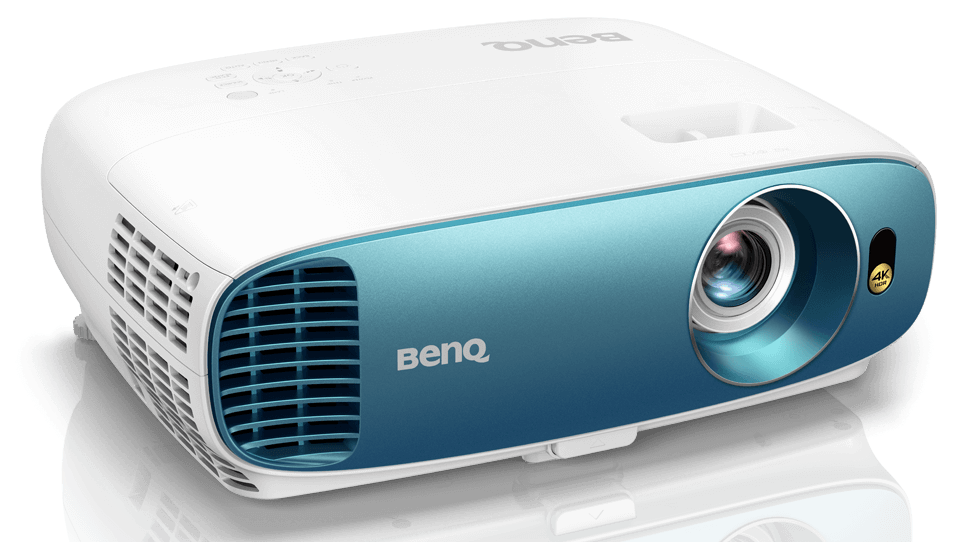 And here comes another entry from the trustworthy BenQ. Let's see how they managed to add their personal touches to the TK800 4K projector.
The 3840 x 2160p resolution applies here as well. It is really a standard when it comes to 4K UHD projectors, as this is the closest you can get to a true 4K projector. You won't be able to experience real 4K with most of the projectors available nowadays, but this resolution offers more than you can imagine – the number of colours and all of the nifty features a projector has will help you improve the overall quality of such hardware, so you won't miss much.
3000 ANSI lumens of brightness, as well as the 8.3 million pixels, come to your aid and provide you with amazing 4K quality. Not to mention the HDR10, which offers even more brightness, contrast range, and image optimization – this is one projector that makes sure you won't miss any of the details on the screen.
In terms of portability – as in carrying it in your backpack next to your laptop – the same weight and dimensions of the previous BenQ projector on our list apply here as well. So, it measures 9.2 lbs, 13.9 x 5.3 x 10.7 inches. So, it's just like a pocket cinema – well not really pocket, but you can surely carry it wherever you go.
If you are a sports fan, BenQ has put some thought into making this projector perfect for that night when you and your mates gather to watch a football or sports event. This projector comes with dedicated football and sports modes as well as with the Cinema Master Audio+2.
So yes, with this projector from BenQ, you can basically move the movie session anywhere you want – other rooms, to your friends or even more complex things as watching a movie with your significant other in some peaceful outdoor location.
The TK800 is definitely a projector you'd want to look more into as it seems suited for almost everyone!
We like:
Very affordable
Standout brightness
Fantastic design
Automatic keystone adjustment
Low fan noise
Strong 3D performance
3-year manufacturer's warranty
We don't like:
Large dark frames around projected image
3D projection feature can be a pain to set up
5. Vivitek HK2288-WH Home Cinema Projector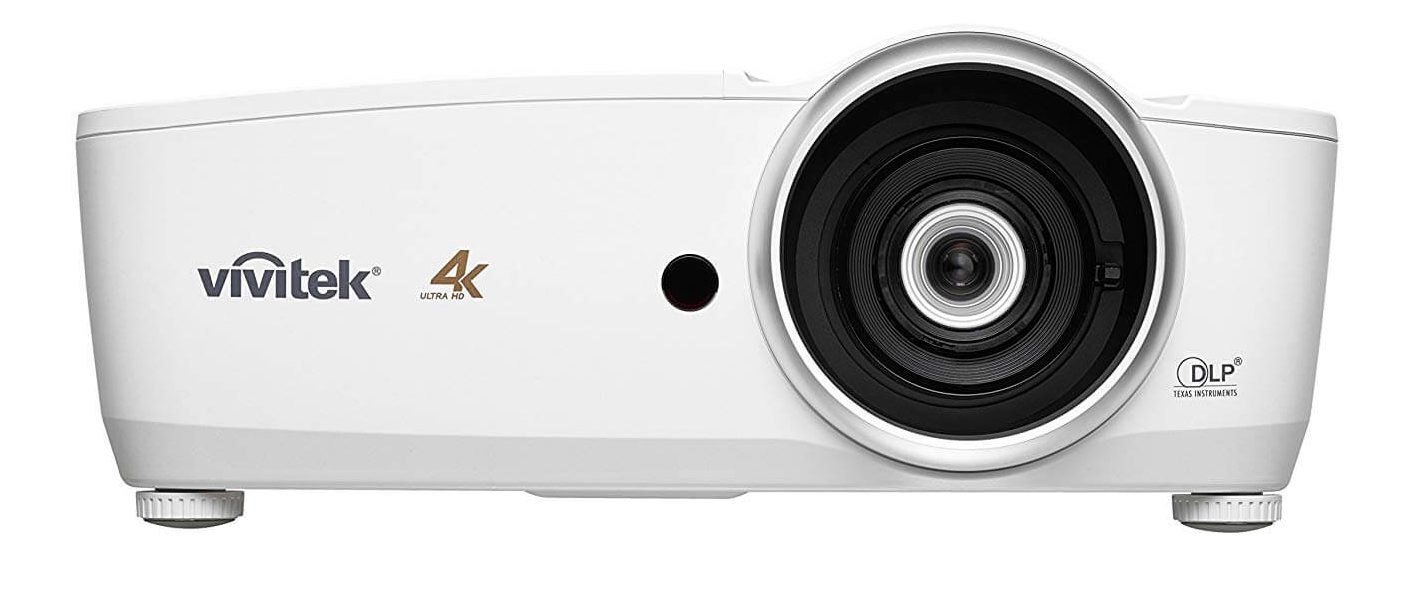 The Vivitek HK2288-WH comes with a DLP DarkChip 3 and with the Brilliant colour technologies. This helps you see better, clearer and more vibrant images as they get projected.
Optimal – if not perfect – black levels are ensured by the astonishing 1,000,000 to 1 contrast ratio. Add to this the 2,000 ANSI lumens and you get an amazing level of brightness as well. No more tilting your head or getting close to the screen in order to see that detail you would've probably missed with a standard projector.
No, sir/ma'am! Here we talk about the best 4K projectors in 2022 – only the best quality and resolution are being taken into account; it's time for standard projectors and their poor quality to step aside and let the big guys play your movie.
Also, when it comes to streaming stability, you will be provided with an advanced video processor as well as with 12-bit programmable RGB colour adjustments. It's all about helping you see the best quality picture.
Having 3 HDMI 2.0 connectors, you can plug in almost every device in your household to this projector – as easy as it gets! Get your laptop, your favorite gaming console and replace your old monitor or TV with the Vivitek projector. Movies, games and every type of video will feel as real as if you walked outside and checked out the environment.
This is because of the HDR10 feature that this projector comes with. You will get better brightness levels as well as vibrancy so that the colours it will project will be as close to real life as possible.
Definitely, this 4K projector is able to provide you with some of the most mesmerizing visual experiences you can have in your lifetime!
We like:
Excellent price-quality ratio
Attractive design
Versatile
Perfect size
Consistent HDR quality
Good detail
Decent colour palate
Good motion processing
We don't like:
The pictures aren't as vibrant as what you might be used to
Might need to make some pre-movie adjustments
There is some clipping when it comes to bright picture areas
6. Sony VPL-VW285ES Home Theater Projector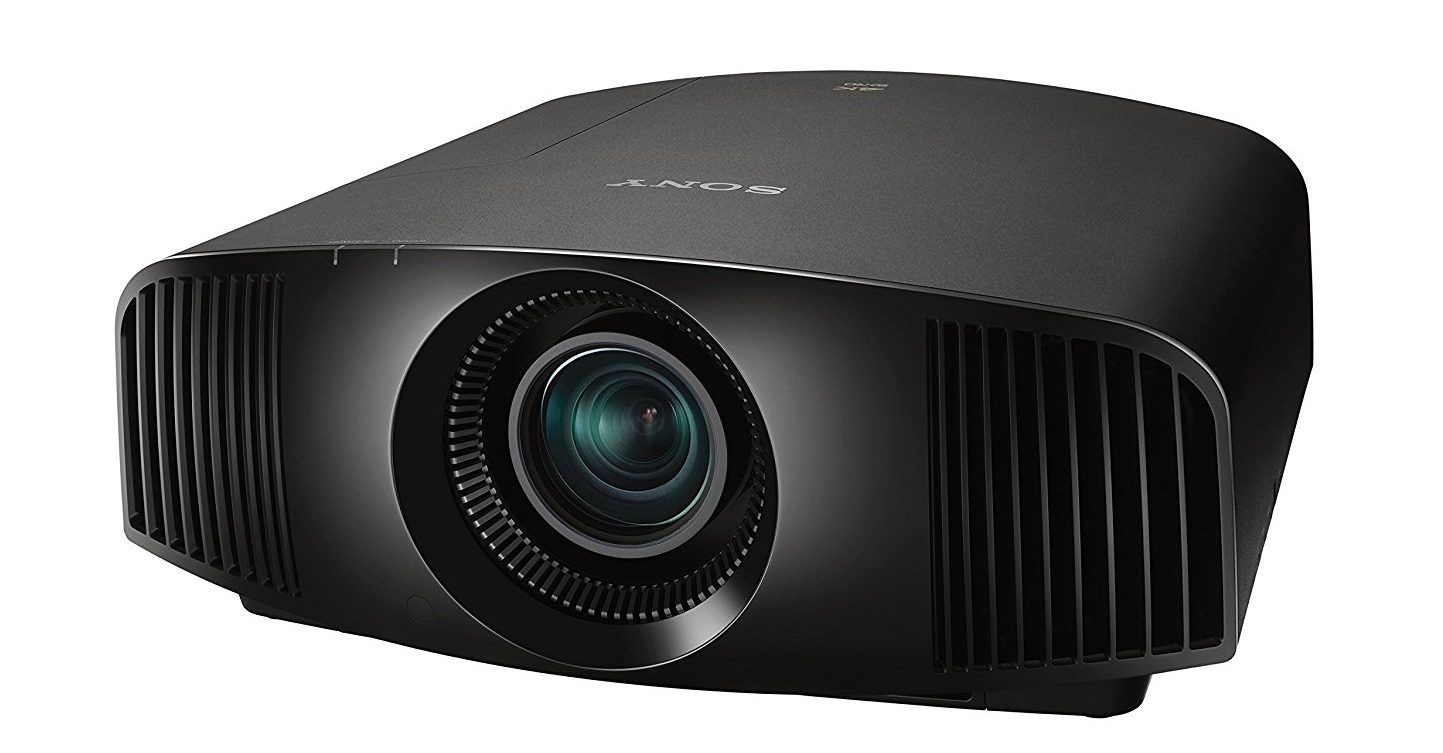 This projector from Sony is probably what you've been expecting for so far. Why? Oh, let us tell you why – this will be the projector that will be able to introduce you to the true 4K resolution, as it comes with a 4096 x 20160p resolution. Yep, you read that right. The full 4K resolution, packed in a Sony projector – we already mentioned them as being the ones that have some of the first true 4K projectors out there.
This native 4K resolution packs up 8.8 million pixels and is so good at projecting that you will feel like just opening a window towards your favourite view – be it the Niagara Falls or the Shire from the Lord of the Rings. You'll even feel like you could enter that world any time you want by simply stepping inside the 200 inches screen you will have set up in your cozy home cinema.
Sony is truly one of the leading companies when it comes to 4K projectors!
As mentioned earlier, projectors from Sony make use of the LCoS-SRXD technology – meaning that there are separate images inside the projector, for the Red, Green and Blue channels; in case you were wondering why the Shire seems so real.
The "triluminos" display comes to help that real life feeling of the colours. This is able to reproduce more tones and textures like crimson red, aqua blue, and emerald green. Basically, every tone of colour is displayed beautifully with this projector.
Of course, this quality comes with its downsides – but it's nothing too serious. The projector has only 1500 lumens and 6,000 hours of lamp life. Compared to our previous entries, it has a bit lower values, but it does its job great! The quality of the display means everything for the guys over at Sony and they surely provide you with the best!
We like:
True 4K resolution
Great price for its features
Very easy to set up
3-year warranty
Super sharp image quality
We don't like:
No lens memory
Lacks dynamic iris
7. Acer H7850 4K HDR Projector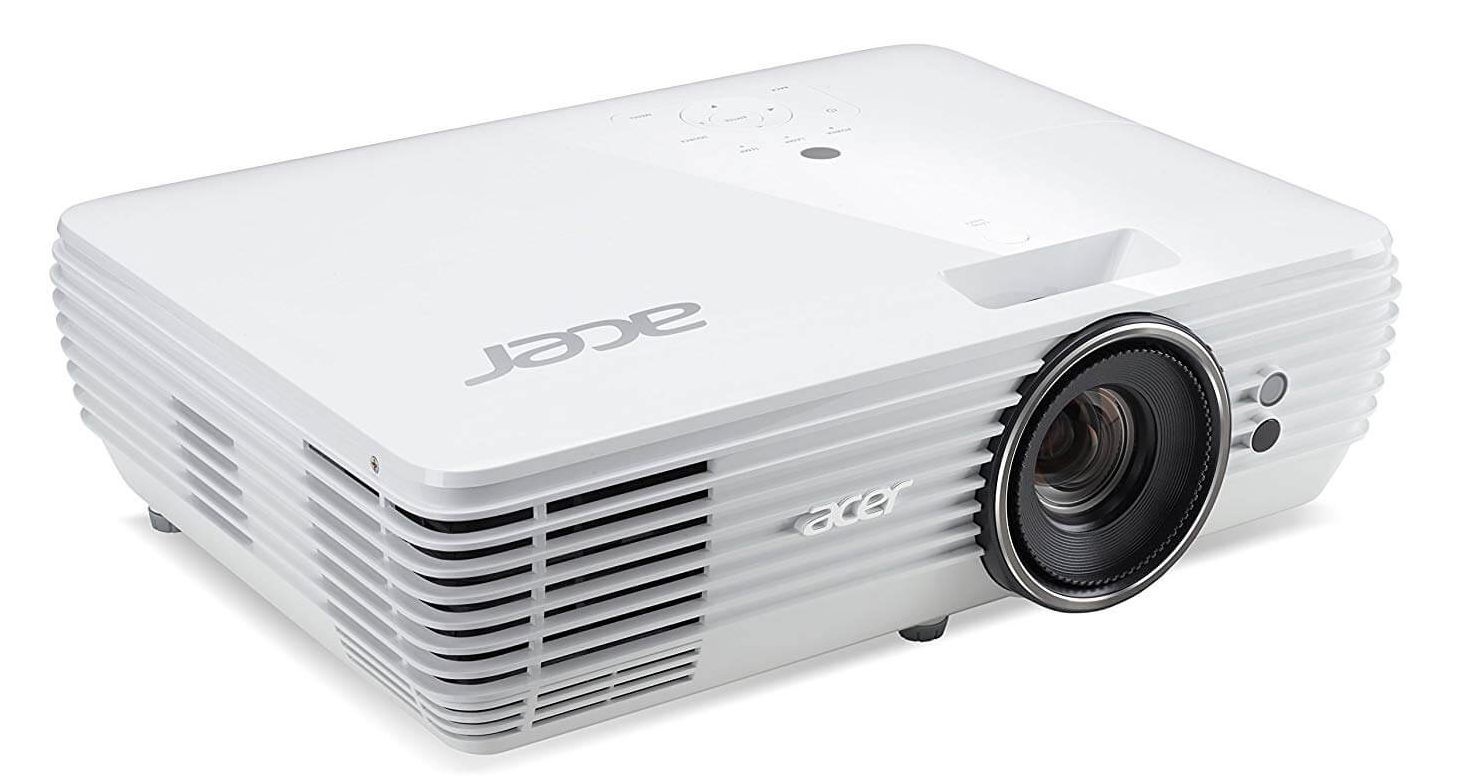 Yes, even Acer has got into the business of 4K projectors. One of the most popular laptop manufacturers comes to help you improve your gaming nights with the H7850 4K UHD projector.
It features a 3840 x 2160p resolution, being able to display 8.3 million megapixels on your screen.
Screens of up to 120 inches will take full advantage of the DLP technology, providing you with amazing image quality as well as clarity. The 3000 lumens of brightness will make you see the image clearly in a well-lit environment as well as in daylight.
With the help of HDR compatibility, you won't have to deal with those pixelated black stripes on your screen when a scene full of dark shadows comes on. Due to the vibrant colour infusion, all of the details in a certain scene will be perfectly preserved, for you to enjoy the movie the way it was meant to be enjoyed. You'll no longer have to rewind the last minute and tilt your monitor screen because you think you've missed something – no pause, no rewind, just lay back and enjoy your movie.
Acer also managed to add a personal touch to their projector. The AcuMotion technology is really something that probably most of you have dreamed at –it generates a new, intermediate frame between two other frames and inserts that frame between those two. With the help of AcuMotion, you will say goodbye to flickering images and enjoy your favorite action movie – almost like being on the set of it.
Moreover, with its two built-in 5W speakers, you won't need any external speakers. They provide powerful and immersive sound, helping you enjoy your games even more.
This Acer 4K UHD projector, with its 1,000,000 to 1 contrast ratio, is a great choice if you want to enjoy gaming even more. Say goodbye to your monitor screen for a while and relax on your sofa!
We like:
Very affordable
Crisp visuals
Convenient lens adjustability
Affordable lamp replacement option
Wireless Projection Technology
Strong performance
Loads of brightness
Strong colour mode performance
Quality onboard audio options
We don't like:
High levels of fan noise
Very noticeable input lag
Lack of 3D content support
Noticeable rainbow artifacts in certain modes
8. Optoma UHD51A 4K Home Cinema Projector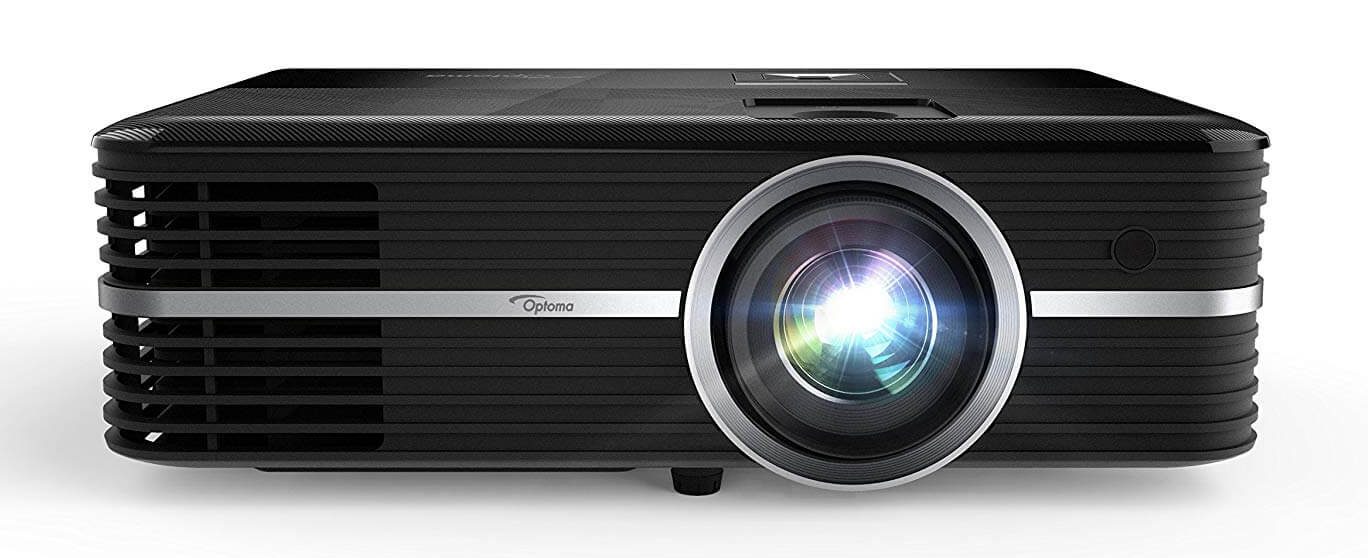 First of all, we have to mention something we think is great about this projector from Optoma – the fact that it works with Alexa. You'll be able to control it with your voice so really all that's left for you to do is set the projector up and take shelter on that soft sofa of yours.
With 2,400 lumens of brightness and a HDR10 support, you'll definitely notice the brightness that this projector is able to provide you with. There's no need to pull the curtains all the way in order to enjoy a movie session.
Black levels are ensured by the 500,000 to 1 contrast ratio – a little lower compared to our previous entries but it does its job just fine; you'll be able to see all the detail you want to see when viewing darker scenes.
Those 8.3 million pixels are also ready for 3D Blu-ray – but keep in mind that you must have a pair of DLP-Link 3D glasses and a 3D Blu-ray player. But we're sure you won't want to miss the 3D experience in the comfort of your home, as well as on a 4K UHD projector screen.
This being said, this projector from Optoma, with its 3840 x 2160p resolution is a great choice and you will definitely fall in love with the image quality it is able to offer you.
We like:
Seamless integration of Amazon Alexa and Google Assistant
Full 3D content support
Superb 4K image and video quality
Super quiet while running
Quick switching between source inputs
Great price for its features
We don't like:
Low brightness uniformity
No support for Hybrid Log Gamma
Noticeable input lag
No internal Wi-Fi capability
9. Sony VPL-VW675ES 4K SXRD Projector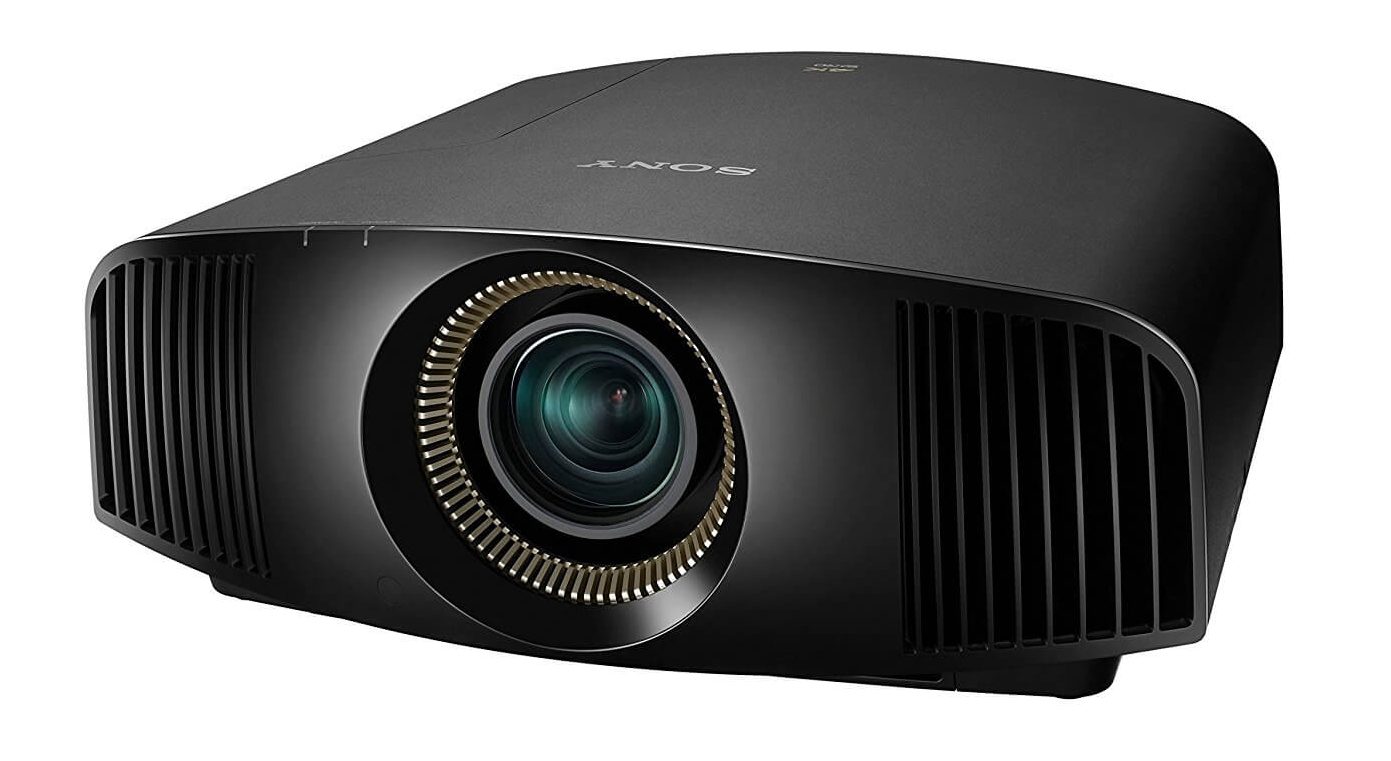 Naturally, the only two entries from Sony provide us with two projectors that have a true 4K resolution – cheers to Sony for making our dreams come true! With the 4096 x 2160p resolution, this projector is clearly offering you the best that's out there.
Namely, the most amazing image quality, optimal amounts of brightness, a 350,000 to 1 dynamic contrast, motorized zoom lens and wide lens shift, the 4K SRXD panels for all the shades of black you want to see… and the list could go on and on.
Undoubtedly, this projector offers you everything that's available on the market. Nine picture calibration modes help you see the image as close to real life as it gets.
This one really helps you have your personal cinema – not a home cinema, but a cinema and everything that comes with it!
It comes equipped with 2000 lumens of brightness and a lamp cycle of 20,000 hours – and this really steps it up a notch from the previous Sony projector on our list.
Nothing more and nothing less as it already has everything you'd want in a 4K projector. Regarding the dynamic contrast we mentioned here earlier, we also have to say that it is labeled as infinite as well, and it is using real-time laser light level control – and if that sounds cool to you, imagine what it can do in action while seeing a movie or playing your favourite game.
This entry deserves to be named one of the best 4K projectors in 2022 and makes us eager to see what Sony has to offer us in the future – because they sure did a great job so far when it comes to projectors.
We like:
Motionflow and Reality Creation processing
Can adjust processing based on preferences
Sharp and clear signals, even from lower-resolution sources
Sleek, modern design
We don't like:
Does not support the Dolby Vision HDR format
Steep price
10. Epson Home Cinema 4000 3LCD Projector with 4K Enhancement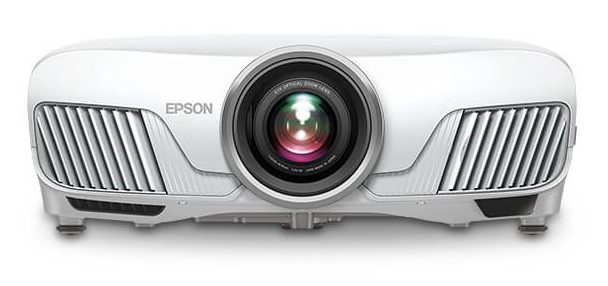 First on our list is this 4K projector from Epson, which works on the 3LCD technology – and it is definitely doing its job properly.
The projector is UHD with 4K Enhancement Technology. So, as mentioned previously, it accepts all 4K UHD content and is able to upscale the non-4K content up to a resolution greater than Full HD.
The 3LCD tech used for this Epson projector is 3-chip, meaning that you will not experience rainbow effects, white segments or colour wheel.In terms of brightness, the projector is capable of HDR10 with full 10-bit colour output. This also means that you will be able to experience colours similar to real life, which is a plus, of course. When it comes to the shades of dark, we have to mention the 140,000 to 1 contrast ratio – every scene will be equally detailed, and you won't have to squint your eyes to see something in a darker scene.
As for the nifty features, you get a nice 2.1x zoom, powered focus, and ultra-wide lens shift – all made available to you via presets that offer up to 10 different positions to these features.
Also, the ultra wide colour Gamut delivers the digital cinema standard and the balanced colour brightness helps you see vibrant and rich colours, even if the room you are projecting in is not completely dark.
Overall, this Epson 4K projector is able to provide you with higher than standard image quality. With the help of the 3LCD technology, your visual experience will be something you wouldn't want to miss.
Even though it's UHD and not true 4K, this projector is definitely a safe choice for your home cinema – being also capable of 3D in high definition; well, doesn't that sound great?
No products found.
Things to Know Before Buying
The first thing you should know about the 4K projectors is that while some of them have a true 4K resolution, others can only accept 4K content. Basically, this means that there are those that display the image at a 4096 x 2160 (or 3840 x 2160) resolution without pixel shifting involved; and those that accept the display of 4K content but are just 1080p projectors, also known as 4k UHD projectors.
If you need more, let's say, geeky information on the differences between true 4K and 4K UHD – we got you covered!
A piece of hardware able to display true 4K resolution uses an 8.3-megapixel chip, or more, and has no pixel overlapping. On the other side, hardware that is referred to as 4K UHD uses 4.15-megapixel chips. Still, with the help of pixel shifting, they are able to project the image twice and reach 8 megapixels.
Still, there are some 4K UHD projectors that even when pixel shifting, they display an image of only 4.15 megapixels, which basically makes them 1920 x 1080 x 2 resolution projectors. However, most 4K UHD projectors deliver a 2716 x 1528 x 2 resolution, thus meeting the 4K UHD standards and providing you with a 2K resolution image.
Now, having informed you over what type of 4K resolution these projectors can offer, it is time for us to move on to the technology these projectors work on. We'll dive in terms such as DLP – digital light processing, 3LCD – 3-panel liquid crystal display, and LCoS – liquid crystal on silicon. Worth mentioning is that the LCoS technology is used by the people at Sony – one of their projectors being considered the first true 4K projector – under the name LCoS-SXRD.
Of course, you might wonder what we're thinking when introducing you with all of these tech terms and why not just tell you which ones are the best. But, the thing is you do need some information on this topic as well, so you'd choose the perfect one for you.
In the case of 4K projectors, it's all about the pixels, the image quality – basically about how amazing the output will look on your screen. So, if you want to make the right choice, lean back and enjoy!
We won't start and describe to you the functioning process of the 3 types of technologies mentioned earlier, as it will be pointless. Instead, we will mention their advantages and disadvantages.
Firstly, we'll talk about DLP technology. Being able to reach a total of 37 billion colours – when being on a 3-chip architecture, not on a 1-chip DLP – 4K projectors that use the DLP tech have more natural colours and are preferred when considering a home cinema. A projector using this technology won't give you burn-in effects, dead pixels, screen door effect and you won't have any convergence problems.
As for the disadvantages, the 1-chip DLP models will come with a rainbow effect, because of the rotary colour filter, and they are also known to have lower colour intensity when compared to the white colour.
Moving on to the 3LCD technology, we have to mention that this is the oldest one on the market – which, in its case, makes it one of the best as well. The first thing you'll definitely like about the 4K projectors that use this technology is that they don't mind any additional light sources – they have superior luminosity compared to the other technologies, therefore being perfect for an outdoor home cinema or for those times when you want to watch something without turning off all the lights in a room.
Then, compared to the DLP, the colour intensity is the same and there is no rainbow effect that may occur with the 3LCD tech. Also, just for the dear consumer, that being you, it's important to know that they consume less energy and produce less heat than the other types.
If you decide you want a projector with 3LCD technology, you should know that this type of chip is a bit more sensible to shocks – so be sure not to accidentally hit or drop it while transporting it. There's also the chance that dead pixels will appear, as well as the screen door effect.
The LCoS technology combines both of the aforementioned technologies. Therefore, compared to 3LCD, their luminosity is even higher, making the 4K projectors with this tech being just perfect for an outdoor cinema, possibly even broad daylight projections. Also, there is no screen door effect, no rainbow effect, and all of the colours are simultaneously projected.
With the smooth image they are able to display and the much better quality when compared to the other two technologies, they do come at a fairly higher price. Keep in mind that there is also almost no competition for the LCoS technology.
Now you pretty much have all the information you need in order to make a good purchase. What's left is to choose from the variety of 4K projectors.
You can read our in-depth guide on how to choose a 4K projector here. 
Final Thoughts
As you have seen, when it comes to 4K projectors, there are plenty of them you can choose from. Popular brands, as well as smaller ones, have successfully managed to create and offer us some of the best projectors out there.
We are sure, that in the close future, standard projectors that may be found in your home will be replaced by one of these 4K babies.
While the Sony VPL-VW675ES wins it when it comes to the sheer number of features and image quality, we now recognize in hindsight that it probably shouldn't be compared to the other projectors on this list because of the massive gulf in price.
The best option really comes down to personal preferences – the display quality, the price, the brightness, the resolution, the technology the projector is functioning on. If we forced to choose one, we would give a shout out to the Optoma UHD51A because of its neat integration with Alexa and Google Assistant. It's also less expensive than several options on this list.
There are a lot of variables you have to take into account when choosing a projector – and even more when choosing a 4K projector, but we hope that our list here has helped you get close to making your choice and that it has also provided you with essential information regarding 4K projectors.
Now, what are you waiting for? We've introduced you with the best 4K projectors of 2022. It's time for you to go and set up your cozy home cinema, prepare your popcorn and grab your favourite beverage, lean back in your sofa and enjoy the revolution that is the 4K display.