BenQ TH671ST Review – Perfect for Gaming
In this article, we're going to talk about the BenQ TH671ST – what we found to be among the best gaming projectors currently available on the market. After comparing literally hundreds of projectors with each other and evaluating how good they were based on their cost, the quality of the image they produced, and their brand's trustworthiness this one really stood out for us.
This is our BenQ TH671ST Review, and everything you read from here on in is our own views and opinions. Some people may want to just go out and buy the most expensive projector they can, but there really is no need.
If you're looking for a projector to use while gaming, and you want the best of the best, without breaking the bank, then keep reading…
No products found.
Who's it for?
This projector has been made for gamers, plain and simple, but that doesn't mean that's the only people it's for. If you're looking for a home theatre system or something to deliver work presentations on, this will work great for that too.
With 1080p resolution and a 3000-ANSI lumen rating, the picture it creates is crystal clear and sharp. The color is also bright and clear, producing a great picture for both movies and games.
What makes it stand out for gamers though is the 16.4 ms input lag that it has. This means there's no delay in the picture you're seeing and the game you're playing. So less lag, more accuracy and ultimately a much better gaming experience.
On top of that, it weighs less than 6 pounds, great if you want something portable that you can take around with you to different spots.
Another feature that makes the BenQ TH671ST stand out is its combination of a short throw lens that also has a 1.2x zoom.
Short lens projectors are great. They mean you don't need a huge space to set your projector up in, but instead can put it close to the screen and still get a huge image even when you're in a small space. This is perfect if you live in a dorm setting or have a smaller living space. The ability to zoom means you don't have to fiddle around with the placement of the projector so much. Simply put it down and adjust the zoom till you get the size of the image that you want. So less time spent messing around with the projectors position and more time you can spend gaming and enjoying the great images that it produces.
What we liked about it
There's no doubt as to why these guys have gotten so popular so quickly when you look at the different features they have. Most of the projectors we have come across are either only good for movies or only good for gaming, but because of the techs in the BenQ TH671ST it's great for both.
We were a bit blown away by some of the specs it has, so let's give you a quick rundown of some of the best bits…
The first thing worth mentioning is how crazily good the picture quality and the brightness is. It has 3,000 ANSI lumens, which is a great deal more than most competing projectors, for example the Epson Home cinema 1060 (another great projector), only has 1000. The TH671ST's brightness is further improved by the LumiExpert feature which, when turned on, automatically measures the rooms light levels and changes the gamma levels accordingly. This means it doesn't matter if you're outside on a sunny day or curled up in your man cave in the basement. Either way you'll get a bright, clear image.
Combine this with a six section color wheel, complete 1080p, and a contrast ratio of 10,000 to 1 and it starts to make sense why the picture quality of this is so insanely good. No pixels, no blurriness, and not too light or too dark, the picture really can't be beat. Oh, and did we mention it's 3D compatible as well? You do need to buy 3D glasses separately, but they're not too expensive, and then you can have 3D viewing in your home, which is totally worth it.
The other really impressive thing is how quick the input lag is. At only 16.4ms this is one of the most responsive projectors that's currently available on the market. This is crucial when gaming, especially if you play online multiplayer shooter games. Split seconds can make all the difference in who kills who, so if you want a projector for gaming it's really important you get one with a quick input lag.
Another wicked feature for you gamers is how big an image this guy can produce. Being a short throw device, that also has a 1.2x zoom, it's super versatile as to how big of an image it can produce. So if you ever only have a small wall it's no problem at all, and if you have a big surface, the picture can go up to a whopping 100 inches, a pretty great size for such a small device.
That brings us onto the next thing that made us really fall in love with this guy. Most people normally only use projectors at home but having the option to take them out with you, to the beach, on holiday, or to friends' houses is definitely a bonus. This can be a pain with some projectors though, but not with the TH671ST. It only weighs 5.95 pounds, doesn't take long to assemble or disassemble and is super small. Perfect for if you want to take it on the move.
Another great thing is how robust this guy is, we've never heard of one break, and it looks like it's been built to be solid. The lamp life is also much longer than most of the others that I've come across. On full power it lasts 4000 hours, that's crazily good right? But get this, on economic mode the lamp can last 10,000 hours before needing to be replaced, and on LampSave mode it can last an unbelievable 15,000 hours. Replacement lamps aren't cheap, for this projector they cost around $120, so knowing that you won't have to replace them for years and years is pretty nice.
Finally, it comes with a three year warranty which covers any manufacturer defects or problems that come up without you doing anything. We always like brands that give out free warranties with what they sell, it just gives us that extra bit of peace of mind that if anything goes wrong I'm covered. What we like even more than that though, is that it shows how much the company believes in the product their selling. If it's got a 3 year warranty we feel pretty confident that it's going to be good quality and built to last.
What we didn't like about it
Like most things, this projector isn't perfect.
We love that this projector has almost everything: great picture, great brightness, strong zoom ability, every connection port you can imagine, and it's light and small too. But they missed one element, which depending on who you are can be a real deal breaker.
For some reason, probably to keep it small and light, they didn't include the ability to read data from USB sticks. It has a USB port but its only function is for powering HDMI dongles. This means that if you want to play movies or games via a USB stick, then this is not the one for you. If you have a laptop or console you can connect your USB to that and get the data that way, but if you don't have access to one of these then you best look for a different model.
Some other sweet features
Although the TH671ST can't read data from a USB stick, it does have 2 HDMI ports, one of which is compatible with MHL. This means that you'll be able to run any computer, laptop, or game console through the projector with no problem whatsoever.
We were also pleasantly surprised by how good the in-built speaker is. We normally use a separate speaker when using projectors of this size, because the ones built in are just too small and quiet. But finally, here is one where that isn't necessary. It has 5-watts of power behind it and with that, it's able to amplify the sound very effectively. With 5 different sound modes to choose from, no matter where you are, in a small basement or outside in a field, you can pick the right setting for that environment.
The other great thing about the TH671ST is how cheap it is when you consider all of the features it has. It costs less than 700 bucks! Its picture quality and long lamp life make it a strong option for those looking to spend under $1000.
Good Alternatives
If you're still unsure about the TH671ST, then another projector that really stood out for us was the Optoma GT1080.
Now there's lots of reasons why we love the TH671ST – it's well designed, well built and has some great features too. But more than that is the value for money that is has. There aren't that many projectors under $1000 with the same specs the TH671ST provides.
The strongest alternative to this projector is the Optoma GT1080. It costs marginally more, but you get a little bit more too.
It has the same 3000 lumens and HD 1080p resolution as the TH671ST but its contrast ratio is considerably more at 28,000 to 1. This means that if you're playing a game that's set in a dark environment it will show up clearer and more detailed. If you tend to play lighter games like FIFA or Skyrim this won't make too much of a difference but if you like zombie and horror games this can be a pretty nice feature.
The picture it produces is even better because of a top of the range, next generation processor that it has inbuilt. This makes the depth and textures of the graphics pretty damn incredible. But, to be honest, once the graphics get as good as they are in the TH671ST any improvements further than that are barely visible to the human eye.
Similarly to the TH671ST, it can't be connected with a USB stick but it does have multiple HDMI ports so you can easily connect any games console, computer, Google Chromecast, or any other HDMI device.
The size of image, and distance of projection, for both projectors is also the same at 100 inches and 3.5 feet.
The real improvement on the GT1080 though is the input lag which is slightly faster (by 0.4ms) than the TH671ST. At 16ms this is one of the quickest input lags that any projector we've come across has had.
That's just a quick overview of some of the best features, but there was a couple of things about it which again makes us prefer the TH671ST.
First, is that the warranty provided with is isn't as long as the one provided with the TH671ST.
Secondly, is how long the lamp life is. Even on energy saving mode the lamp will only last about 8000 hours, which is almost half as long as the lamp life for a TH671ST. Lamps aren't cheap, and with the projector costing more in the first place too we just don't think that extra 0.4ms of lag time is worth the extra cost.

Having said that, they're both crazily good projectors and we don't imagine that you or anyone would be disappointed with either of them.
Conclusion
It truly is incredible how much more advanced projectors now are compared to ten years ago. Back then using projectors for gaming had some pretty serious flaws. Unless you wanted to pay thousands of dollars the lag time would be too high and you'd end up glitching out of most of the games you played.
Well wow, we're glad that that's no longer the case. Playing call of duty on a 100 inch screen, with smooth seamless gameplay is nothing short of fantastic.
The TH671ST isn't cheap. It's might burn a bit of a hole in your pocket, but it's also great value for money when you look at what you get and you'll also have it for years and years. During that time your movie and gaming experiences will be completely revolutionized.
No products found.
BenQ TH671ST Summary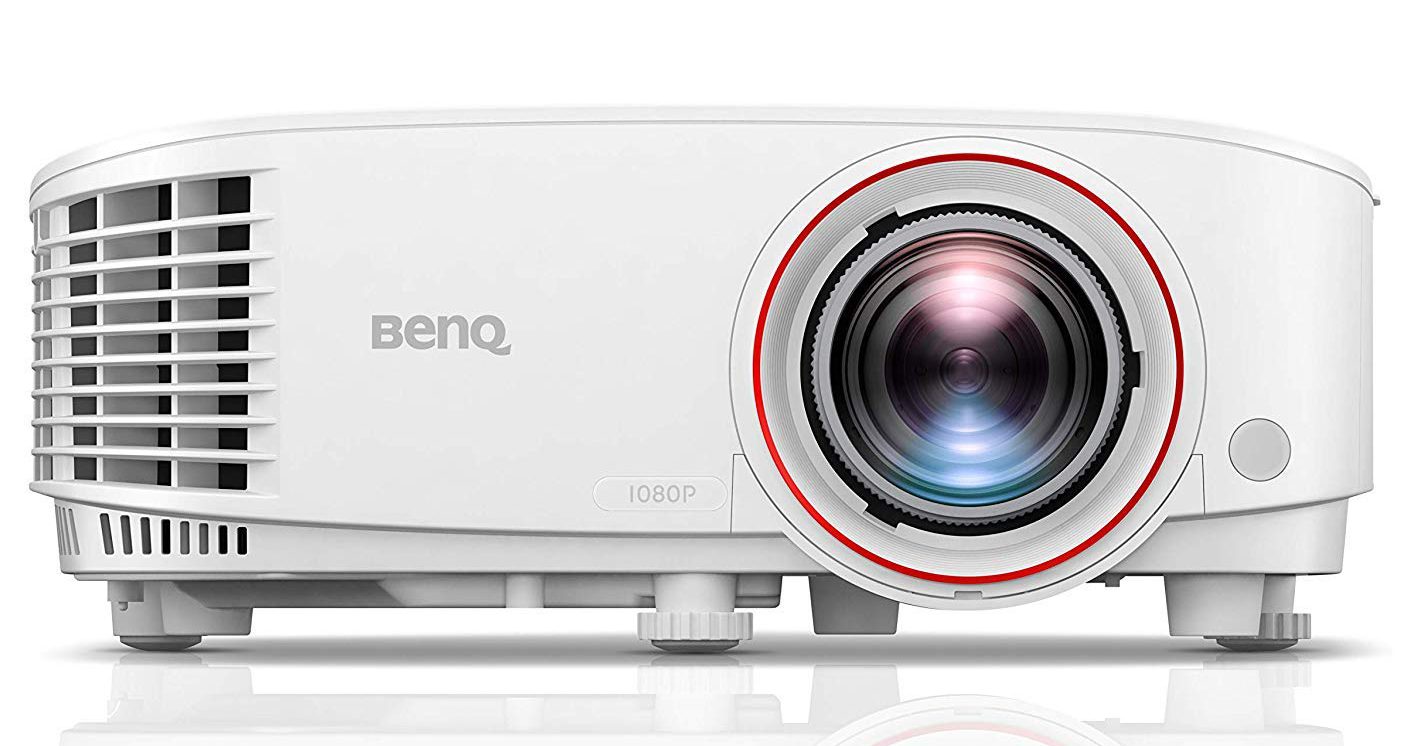 It's hard to explain how much of a difference having such a crisp, high quality image makes to your gaming experience, but it really does make a hell of a lot of difference. With the incredibly impressive lifespan of its bulbs and the whopping 3-year warranty that comes with it as well, you can understand why the BenQ TH671ST is among the popular options around.