Artograph Inspire1000 Digital Art Projector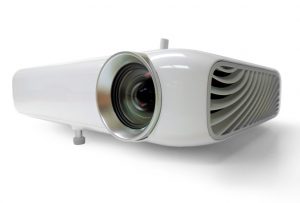 The Artograph Inspire1000 Digital Art Projector is definitely a super-convenient tool to have as an artist. The Inspire1000 comes with enhanced brightness and a nice aesthetically-appealing design.
This projector integrates easily with iPhones, iPads, smartphones, tablets, laptops and most other digital devices, which makes it easy for artists to connect with their portfolio at all times.
And by the way, these sell out pretty fast. So if you're sure you want it and it's currently in stock, I suggest you get it right away.

Artograph Inspire1000 Art Projector Features & Specifications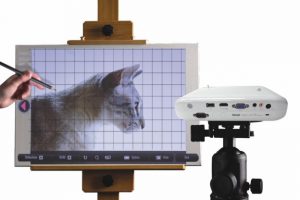 Item Weight: 2.55 lbs
Dimensions: 9.1 x 6.4 x 2.1 (inches)
1000 lumens of no-maintenance LED-lamp brightness ~ 30,000 hours
Input terminals: HDMI, USB, RGB & Component
Compatible with most digital devices
36 built-in grids for layout and composition, including 15 New Rule of Thirds grids
On-board geometric shapes and border patterns
Image and colour controls: Black & White/colour, image flip/reverse/rotate, dynamic contrast, colour temperature control, keystone correction, edge enhancement, one-touch grayscale control
Magnification of 125-400% with USB
Full function remote control
Tripod Mount connection
JPG, PNG, BMP, PDF
Multi-voltage AC/DC adapter (100-240V, 50/60Hz)
1280 x 800 WXGA
Backed by Artograph's Lifetime Technical Support
The Artograph Inspire1000 package comes with a standard tripod mount.
The Artograph Inspire1000 Art Projector is ideal for projecting photos and images for tracing, layout, and design of your artwork. Suitable for small to large portrait-sized artworks, plus mid-sized indoor murals.
If you're an art business owner, this is the kind of quality you should shoot for. Plus, the convenience makes it easy for you to get more done in less time. If you're really passionate about art and attention to detail, this projector would be worth your money!
Available on Amazon