Artograph Flare100 Digital Art Projector Review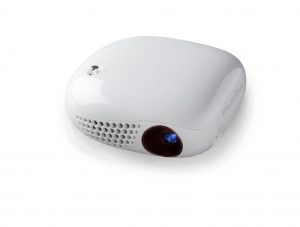 *The Flare100 Art Projector is no longer being produced. At the same price, the brand new Flare150 Art Projector is an improved iteration of the Flare100.
The Artograph Flare100 Digital Art Projector is a small, portable-sized projector that operates on battery. Before anything else, one thing this projector affords artists is the luxury to be able to go anywhere with it due to its portable nature.
The Flare100 projects a sharp image from as close as 4 inches from your surface to as far as 120 inches.
Its easy integration with iPhones, iPads and smartphones means the only thing standing between an artist and their art portfolio is a USB or flash drive. In fact, the Flare100 has a wireless screen-sharing connectivity feature with Android devices.
Artograph Flare100 Art Projector Features & Specifications
Item Weight: 0.6 lbs (only projector)
Package Weight: 2.35 lbs (projector + box contents)
Dimensions: 4.25 W x 1.72 H x 4.06 D (inches)
100 lumens of no-maintenance LED-lamp brightness which lasts approximately 30,000 hours
Projection range: 4 – 100 inches
Input terminals: HDMI & USB
Wireless Screensharing with Android devices
Small and portable design
Throw ratio: 1.64:1
22 built-in grids for layout and composition
On-board geometric shapes and border patterns
Image and colour controls: Black & White/colour, image flip/reverse/rotate, dynamic contrast, colour temperature control, keystone correction, edge enhancement
Full function remote control
Tripod Mount connection
Multi-voltage AC/DC adapter (100-240V, 50/60Hz)
Rechargeable battery
2 hours of battery operation
854 x 480 WVGA
Here's what you can expect from the Artograph Flare100 Art Projector:

L-R: Standard, Expert 1, Expert 2, Blank
You choose your picture mode settings according to the details you need to see at a given moment while working. The final setting "BLANK" whites out the projector for you to see the finished work.
Here's an actual demonstration video using the Artograph Flare100 Art Projector: